DECOMMISSION
Well decommissioning: shared risk, well rewarded
Multi-well decommissioning campaigns delivered as Well Operator, including safety case management, control of work tools and processes, offshore supervision and regulator liaison.
Project
Thames decommissioning project, UK Southern North Sea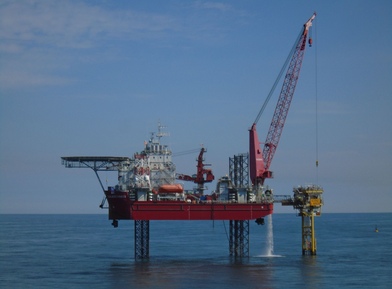 Overview
Since 2016, we've decommissioned ten subsea wells and two platform wells for Tullow Oil's Thames decommissioning project over three campaigns.
Our innovative approach and collaboration with the supply chain has resulted in more than US$10 million in savings for Tullow.
Innovative approaches to well decommissioning
On the Horne and Wren phase II decommissioning project, our first campaign with Tullow, as the asset was normally unmanned, there were several challenges to be overcome during the design and execution of the rig-less permanent abandonment of two gas condensate wells.
Our integrated, cross discipline team developed innovative technical solutions to successfully mitigate these, including using a jack-up lift barge rather than a jack-up rig and utilising an innovative pipe recovery technique instead of a heavy lift vessel, delivering more than US$2.5million in savings.
Successful simultaneous operations of topsides and jacket pre-removal and disposal works alongside online well decommissioning activities and optimisation of the scaffolding access work scopes also saved five and a half days of critical path time.
Overcoming challenges, efficiently
On the second phase of the Thames decommissioning project, which involved the decommission of seven subsea wells, our Well Engineering team addressed an entirely different set of challenges to deliver project savings of over US$4 million. An achievement which benefited not only Tullow Oil, but the wider supply chain.
As is quite normal with legacy infrastructure, we found that the original tree and wellhead equipment was no longer supported and the late life wells had unknown pressure regimes. This combination presented an interesting challenge for us to address as Well Operator.
At this end of the asset life cycle, the focus on cost and schedule is more acute than ever. Our job was to tackle these challenges on behalf of Tullow, in the most efficient way possible.
Relationship goes from strength to strength
When we were, once again, appointed as Well Operator and main contractor for the latest phase of the Thames decommissioning project, the pressure was on to relive the success we delivered on previous phases.
As Well Operator, we were responsible for the execution of plug and abandonment operations on three of Tullow Oil's subsea wells in the Southern North Sea. This included detailed planning, direct procurement and management of all sub-contracted services, including provision of a jack-up rig.
"Petrofac went above and beyond our expectations, with a high level of engagement achieved by collaborating with us as a single team. The UKCS operation is amongst the very best, if not the best in the world."
Supply chain collaboration drives efficiencies
With responsibility for all sub-contracted services on the project, Tullow had just one interface. This enabled us to take a holistic approach to optimise operations and maximise collaboration to deliver even greater efficiency.
Throughout each decommissioning phase, our Well Engineering team collaborated with the supply chain to develop a shared approach to risk and reward, meaning those involved were fully invested in safely beating the schedule resulting in significant project savings.
It was this collaboration, that contributed toward successful completion of the three subsea well decommissioning campaigns in successive years within the project budget.
We worked together to implement alternative solutions to mitigate key risks and control project expenditure, from the deployment of air divers from the rig instead of utilising a Dive Support Vessel, to the novel application of a managed pressure drilling spread to mitigate the well re-entry risks of unknown pressure regimes.
Together with our key contractors we also continually improved operational efficiency to reduce the campaign schedule, and overall made material savings which were shared across the supply chain.