Labour supply
People bring the energy that drives every operation. Our workforce and supervised services ensure you have access to the right people, with the right competencies, precisely when you need them.
Our global pool of high quality, ready-to-mobilise experts includes professionals from all major disciplines: electrical, mechanical, rotating equipment, control and instrumentation, process, operations and maintenance, reliability, verification and marine.
Enhance the performance of your assets, improve productivity, and reduce costs with the skilled labour, experienced supervision and direct management we can provide.
Right place right time
All of our personnel are deployed through our 24/7 Delivery and Technical Hub. The hub enables us to manage fluctuating requirements in a flexible, cost effective way.
For you, it means that as well as having a dedicated capability, you can tap into logistics, recruitment and competence management resources on an as-needed basis, keeping your overheads low.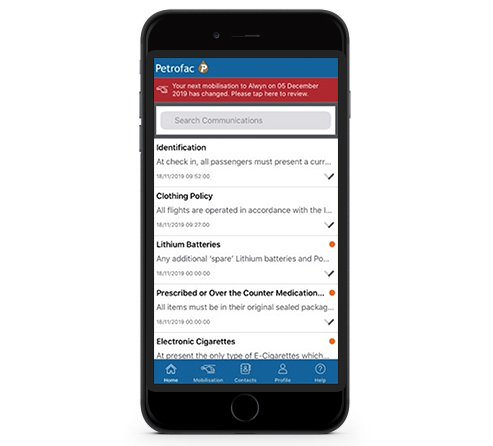 PetrofacGO 
Our PetrofacGO app enables us to stay connected, streamline administration and reduce offshore mobilisation costs. Our Delivery Hub team can quickly push mobilisation details, updates and communications direct to mobile devices. 
Competence assurance  
We work with our competence assurance experts to ensure we have the right people in the right roles, supported by plans to support their long-term development.  
Competent Person Profile frameworks define the capabilities our people need to succeed, and act as our method of achieving, maintaining, demonstrating and improving competence. 
Clear and effective communication is vital to our ability to integrate, motivate and keep our employees safe, engaged, and productive. Supported by our Human Resources and Communications functions, we create a two-way dialogue that ensures our people live our values and are aligned with client and asset KPIs (Key Performance Indicators).
Our asset support services