Programme definition
Developing your decommissioning strategy is a key phase but how do you determine the optimum delivery approach?
By integrating and supporting your decommissioning strategy, or helping form the strategy, we are well placed to define the decommissioning programme.
Every aspect of your decommissioning project is analysed and key questions are addressed, including:
• What asset and infrastructure modifications need to be made?
• How will the asset and infrastructure be made safe ?
• How will assets be removed and recycled?
• When and how will wells be plugged and abandoned?
• What are the key value drivers and opportunities?
• What are the key scope risks and how do we mitigate them?
Completing detailed analysis at the outset, and getting the programme definition phase right, drives cost and schedule surety and ensures there are no surprises for you during the execution phase.
Flexible solutions
Every decommissioning solution must be cost-effective and asset specific, but no two projects are the same. That's why we are flexible and can package decommissioning activities to align with your objectives.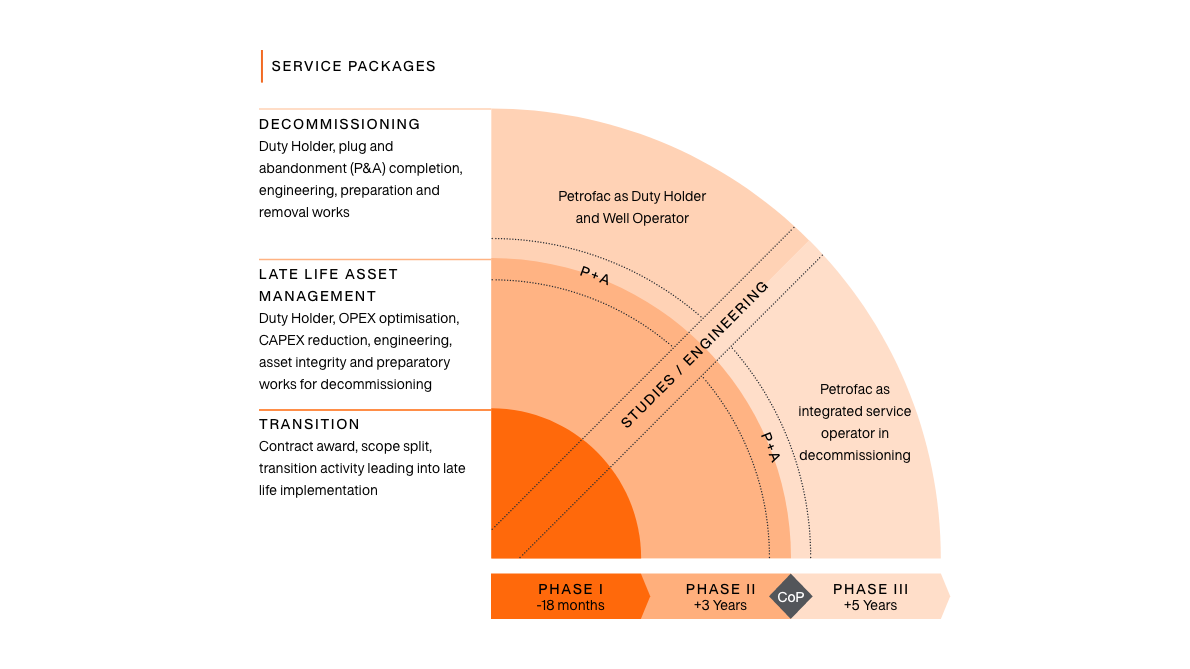 Collaboration and supply chain management
With the ability to deliver much of the front-end decommissioning scopes ourselves and, as the only tier one global contractor with the in-house capability to manage all well and asset decommissioning phases, we are well placed to select the best vendors, subcontractors, and assets for the job.
Delivering complete projects as one team through a single contract solution, we cover everything from waste and logistics management to rig operations, subsea infrastructure removal, and heavy lift vessel and disposal yard selection.
By avoiding being tied into owned assets, we utilise our strong supply chain management capabilities and networks to ensure the best value at the lowest cost for you.
Choose the decommissioning package that suits your needs
Whether you require services as single, discrete activities, or integrated to offer a complete managed solution, Petrofac's solutions enable you to focus your time and resources where they can deliver greatest value.
Our integrated capability supports the late life landscape – from studies and production enhancement activities, brownfield engineering, subsea intervention and operations, to planning and well plugging and abandonment.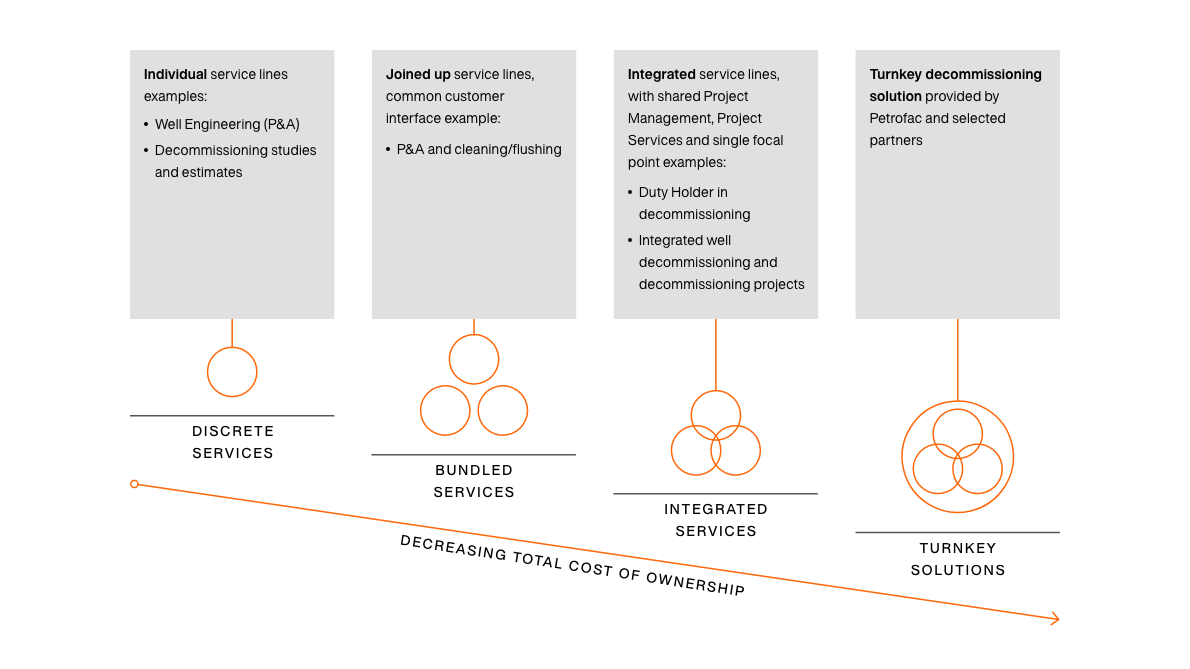 Managing risk
Removing, or reducing and controlling, decommissioning project risk is at the heart of our performance improvement process.
These goals are embedded in our risk management tools, mandated within our project delivery process, and delivered via the risk module element of our innovative web-based project management software, Turus™.
With an appetite for sharing risk and reward, including through innovative commercial models, our teams are committed to safe, on-time and on budget delivery.
Our decommissioning services
Our decommissioning programme definition services
Petrofac has a strong track record in technical safety spanning all topsides facilities, jackets, pipelines, subsea infrastructure, wells and terminals.
• Project management
• FEED
• Well engineering
• Subsea engineering
• Facilities engineering
• Value engineering
• Preparatory works
• Project controls
• Management systems
• Optimised maintenance
• Project assurance