Emergency response and crisis management
With more than 20 years' emergency response and crisis management experience, you can trust our team of specialists to prepare you for the unexpected.
Our emergency and environmental response preparedness consultancy services range from gap analysis to the design and development of response systems. We provide wide-ranging training and exercises to prepare your responders in the event of an incident.
Not every organisation has the capacity to resource a full emergency response and maintain a crisis management team in-house. That's why we also provide practical global response support to real emergencies when they do occur – both through our Emergency Response Service Centre in the UK, and our virtual offering, anywhere, anytime.
Emergency response
We provide emergency response solutions, facilities and support for a wide range of clients worldwide, including energy operators, drillers, marine vessel operators and onshore Control of Major Accident Hazards (COMAH) sites.
Virtual emergency response 24/7
Our Emergency Response team is online 24-hours-a-day, 7-days-a-week, 365-days-a-year, and currently supports 49 clients and multiple assets.
Recently upgraded to offer a seamless virtual response room capability, our Emergency Response team can support emergencies without the need for responders to be present in the same location.
This virtual capability offers increased flexibility, enabling any team member to participate – wherever they are in the world.
Emergency response service centre
An industry first when launched in 2006, our virtual emergency response capability is supported by our Emergency Response Service Centre (ERSC) in the UK.
Designed to support client assets, vessels, normally unmanned installations and operational platforms and terminals, the ERSC provides a fully trained team in the event of an emergency.
Industry exercises
We remain at the forefront of emergency response by working with industry to lead UK-wide remote and blended training exercises, including with the Offshore Petroleum Regulator for Environment and Decommissioning (OPRED) and the Secretary of State's Representative (SOSREP).
Crisis management
Our Crisis Management team provides training and consultancy services at strategic, tactical and operational levels, including:
Gap analysis
Capability and company response framework assessment against your company standard or a regulatory requirement.
Emergency Response facilities, equipment, manuals and training
Advice on responder equipment, telephones and communications, event logging and action tracking, status display boards and toolkits
Development of emergency response procedures and guidance documents
We can help you to create, test and execute Emergency Response (ER) plans, as well as provide bespoke emergency response training and consultancy
Exercising
Table-top

A discussion-based session around hypothetical emergency response scenarios to verify expected arrangements between responding parties/stakeholders, during which relevant response documentation is reviewed and tested

Simulated emergency response exercise

Real time practice for responders in a recreation of an event, involving interaction with role-players and other responders. Can be extended into a 'Major' exercise which includes the wider company response and external responders - from pollution response verification exercises with the regulators, up to delivering the multiple-day National Contingency exercises in conjunction with OPRED.
Service company training
A workshop for onshore service company responders who are likely to be called upon to support their client's response in the event of an incident affecting employees.
Media spokesperson training
Includes a variety of interview situations, typically door-stepping, remote studio, and face-to-face studio interview.
HR responder training
Public and company-specific people support courses:

Relative response
Contractor liaison
Hospital liaison
Next of kin notification
Evacuee reception centre
Family liaison
Offshore emergency management consultancy
Specialists visiting your offshore asset(s) to:

Design, review, analysis and audit of offshore emergency plans and processes for a range of incidents and scenarios (including violence and/or acute mental health-related incidents) with support on OIM powers, scene preservation, cordon management, witness identification/management, and logging/statements
Review and audit of offshore emergency response equipment
Assessment of offshore emergency managers and teams against bespoke competence standards
Preparation of candidates building towards assessment
Offshore emergency response training and exercise design/facilitation
Production of gap analysis and assessment reports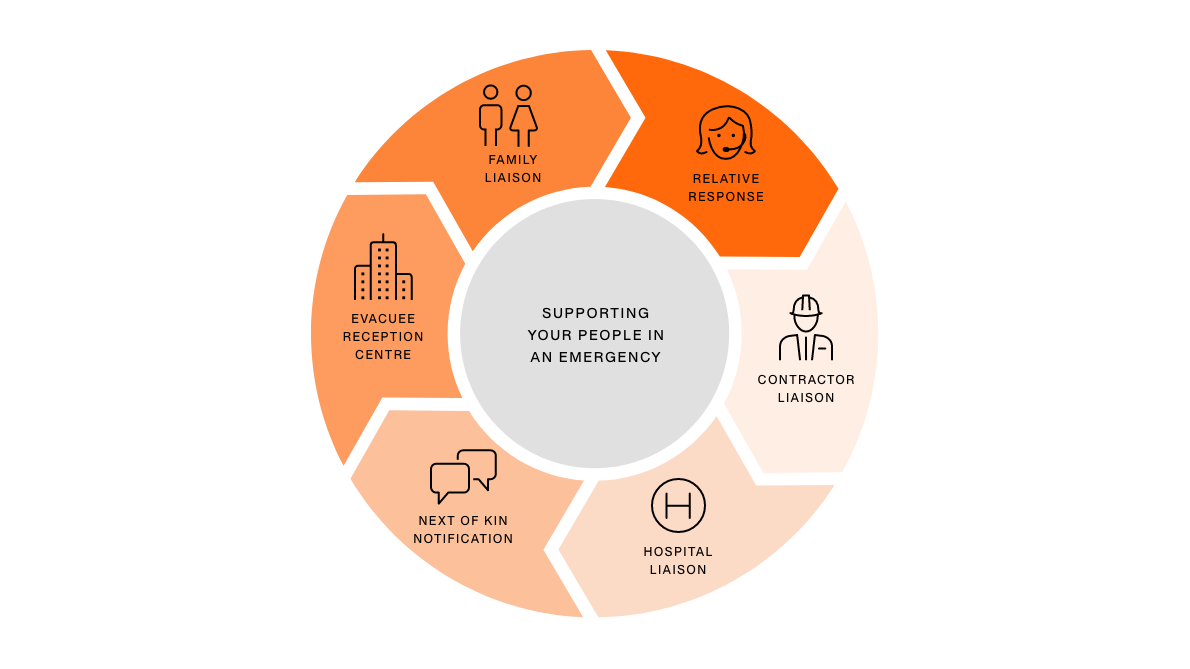 Petrofac HR response services and training
Evacuee reception centre - Trust us to look after your people
Having offered evacuee reception centre training for almost ten years, we expanded our Response Services capabilities to include our on-call HR Support responder to facilitate the HR functions (such as Contractor Liaison, Relatives Response, Hospital Rep 'Meet and Greet', Next of Kin Notification, Family Liaison) and including an Evacuee Reception Centre service.

Our on-call Evacuation Reception Centre Facilitator can provide support and advice for your global operations, or for an Aberdeen-based venue, we will quickly mobilise our on-call team within one hour and manage an Evacuee Response Centre on your behalf.

From helping offshore worker evacuees to speak to a medical practitioner and call their family, to making travel and hotel bookings, we even make sure they are comfortable with a change of clothes and a toilet bag if needed.
With a guaranteed team of competent responders, selected from our core team of more than 35 response practitioners from Petrofac and our venture partner Seletar – you can be assured that every one of them is fully trained and experienced, with responding as their profession.
Environmental response – helping you take control
Whether you are responsible for assessing, reporting or responding, our environmental response training provides your responders with the knowledge and techniques to effectively deal with offshore oil spills.
Environmental consultancy
Our environmental consultancy, training, assessment and reporting services include:
Oil pollution emergency plan (OPEP)
Consult to prepare both offshore and onshore OPEPs outlining risks presented by operational activities and the response actions should a pollution event occur, demonstrating an operator's response capability for oil spills originating from all production, drilling and well intervention operations.
Pollution responder training and consultancy
OPEP Training Level 1: Offshore On-scene Commander (OIM), UK (CBT)
e-Learning certification for On-scene Commander (OSC) required to respond to an unplanned spill to sea.
Book now
OPEP Training Level 2: Corporate Management
Half-day awareness course for personnel undertaking the role of executive or corporate decision-maker. Certification valid for three years.
Course can be delivered in-person or remotely.
Scheduled open course dates: 16 January 2024, 16 April 2024, 20 August 2024, 19 November 2024.
OPEP Training Level 3: Onshore Emergency Responder Course, UK
Three-day certification for tactical management responders required to direct and coordinate an oil spill response. Certification valid for three years.
Course is delivered in-person.
Scheduled open course dates: 24 – 26 January 2024, 1 – 3 May 2024, 28 – 30 August 2024, 27 – 29 November 2024.
OPEP Training Level 3-4 Refresher
A full-day course aimed at maintaining the competency of response personnel in the tactical management and co-ordination of an oil spill response. Certification valid for three years.
Course can be delivered in-person or remotely.
Scheduled open course dates: 18 January 2024, 18 April 2024, 22 August 2024, 21 November 2024.
All our OPEP training courses have been developed to industry standards and are approved and recognised by the Offshore Petroleum Regulator for Environment and Decommissioning.
For prices and further information, please contact our Environmental Response Team by emailing opep@petrofactraining.com
Exercises
Operators who hold an Onshore OPEP must undertake a Regulatory evaluated 'Tier 3' exercise every three years. The Operator must satisfactorily demonstrate their capability and ability to interface with various government departments, as described within the UK's National Contingency Plan for marine pollution, which may become involved to monitor and support the counter pollution and source control aspects of an ongoing, uncontrolled release of hydrocarbons originating from an offshore installation.
We have years of experience in developing and facilitating these exercises on behalf of our clients, for both an in-person and a remote response.
We have also developed and facilitated the last four Oil & Gas National Contingency Plan exercises, including the National Shipping exercise.
Assessment and reporting
• Oil Spill Modelling
Oil spill modelling required for OPEP development is undertaken using the OSCAR (oil spill contingency and response) package. We have a dedicated team of trained modellers, and all modelling is performed to current OPEP Guidance requirements.
• Major Environmental Incident (MEI) Assessment
OSCAR modelling outputs to support the assessment of potential MEIs, required for Safety Case submissions and all Well Notifications.