Strategic planning and consultancy
Strategic drivers during the late life phase of an asset are very different to those during ongoing operations. Our teams understand this; that's why they always adopt a project mindset and culture, underpinned by operational discipline.
Tailored decommissioning solutions
Petrofac's decommissioning solutions are tailored to provide targeted support, aligned to your asset strategies. We do this so we can match the solution to the challenge, and approach your scope in the safest, most responsible, efficient and predictable way possible.
By complementing our decommissioning strategies with innovative commercial models, including lump-sum, we support the industry's challenge to reduce the overall cost of decommissioning by 35%.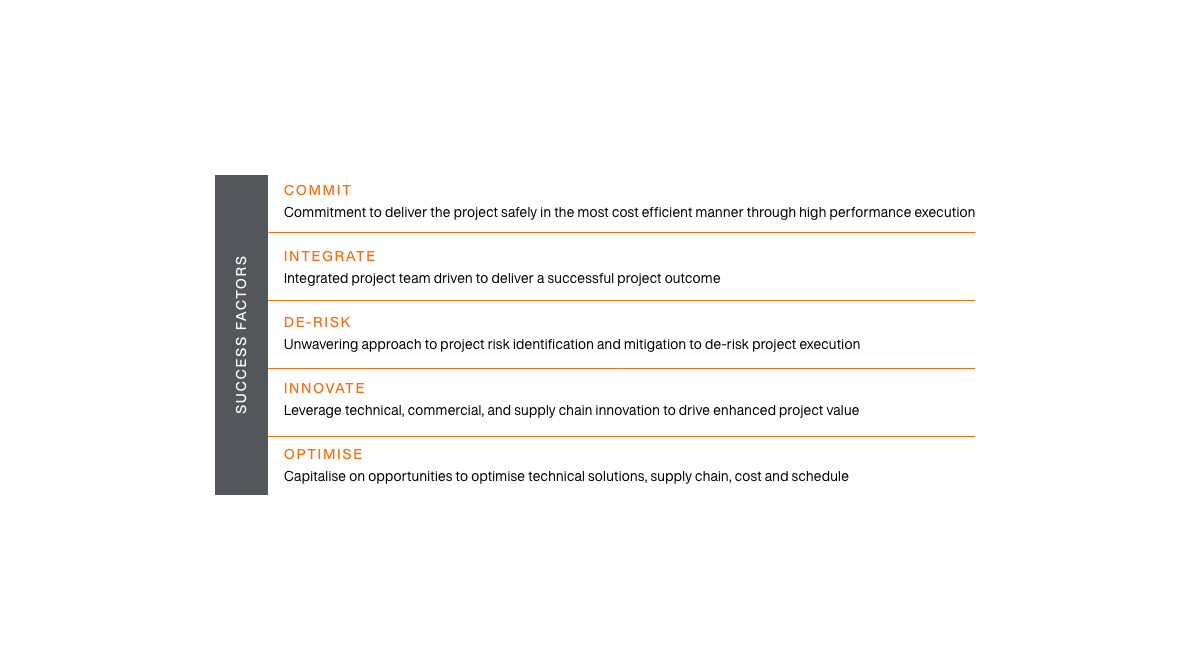 Success factors we drive for every decommissioning project
Real-life experience
Our ability to leverage extensive real-life experience of successfully delivering end-to-end decommissioning scopes gives you the assurance of working with a proven provider.
Front end study work, to fully define your potential decommissioning liability, will be based on our real experience of late life asset management and decommissioning to assure delivery in line with the project cost and schedule.
As a provider of outsourced Duty Holder services on 12 assets, Petrofac is currently supporting ultra-late life and pre-decommissioning work scopes, including subsea intervention and preparation, for Operators including ENI, EnQuest and DNO Petroleum.
Across some 28 assets, our brownfield projects team is also providing modifications support, and our well engineering team has decommissioned 33 wells in recent years.
We are also experienced in integrating with other innovative service providers, who are aligned with our approach, to deliver the full scope. An example of this is the collaborative relationship we formed with Saipem for the removal/disposal phase of the BP Miller decommissioning project.
This accumulation of experience makes Petrofac expertly placed to support the needs of decommissioning programmes, as assets are prepared for and enter the final phase in operation, decommissioning, dismantling, removal, and disposal/recycling.
Early engagement is key to success
Early preparation is a key driver for cost-effective and safe decommissioning, when the time is right.
Through our successful delivery of decommissioning projects, we have developed a range of early interventions and cost-effective measures to reduce the overall cost of decommissioning and de-risk execution.
For unrivalled project management and operations expertise, value driven decommissiong solutions, and flexible commercial models, turn to Petrofac.
Our strategic planning and consultancy services
From concept and feasibility studies to enhanced production methodologies, cost estimating and options analysis, our strategic decommissioning planning capability is extensive:

• Feasibility studies/analysis
• Concept selection
• Enhanced production methodologies
• Power generation optimisation
• Cost estimating
• Structural/marine analysis
• Lifting analysis
• Project planning
Our decommissioning services