Analysts and consensus
Here you can find a list of analysts covering Petrofac, as well as consensus data compiled and updated by Petrofac.
| | |
| --- | --- |
| Company | Analyst |
| Barclays Capital | Mick Pickup |
| Berenberg | Henry Tarr |
| Canaccord Genuity | Alex Brooks |
| Citigroup | Michael Alsford |
| Exane BNP Paribas | Nick Konstantakis |
| Investec | Tom Rands |
| Jefferies | Mark Wilson |
| JP Morgan | James Thompson |
| Kepler Cheuvreux | Kevin Roger |
| Morgan Stanley | Amy Sergeant |
| RBC Capital Markets | Victoria McCulloch |
| Societe Generale | Guillaume Delaby |
Analyst consensus
The consensus data below is compiled and updated by Petrofac. It represents a summary of forecasts made by sell side investment analysts, who provide their own research analyses and earnings estimates in respect of the Group.
US$ millions

2021
2022
Low
Mean
High
#forecasts
Low
Mean
High
#forecasts
Revenue
2,919
3,123
3,270
9
2,345
2,796
3,270
9
EBITDA¹
166
186
200
9
148
182
216
9
Net profit ¹ ²
25
49
64
9
30
46
68
9
Last updated 13 October 2021. Only includes forecasts published following the FY 2020 results. Net profit consensus includes all analysts that have provided forecasts for business performance net profit. It is intended to update the consensus at least once per quarter.
(1) Business performance before exceptional items and certain re-measurements.
(2) Profit attributable to Petrofac Limited shareholders.
Disclaimer: These forecasts are the responsibility, and constitute the judgement, of each individual contributing analyst. Any opinions, forecasts, estimates, projections or predictions regarding Petrofac's performance made by the analysts (and therefore the consensus estimate forecasts) are theirs alone and do not represent the opinions, forecasts, estimates, projections or predictions of Petrofac or its management. By providing these estimates, Petrofac does not imply its endorsement of or concurrence with such information, conclusions or recommendations. No representation or warranty, express or implied is made or responsibility accepted for the accuracy or completeness of the forecasts used in this analysis and neither Petrofac, nor any of its officers or employees shall accept any liability whatsoever for reliance upon, or actions taken based on, any of the information in them. Although Petrofac intends to update the analysis at least once per quarter, it assumes no obligation to update or revise such information.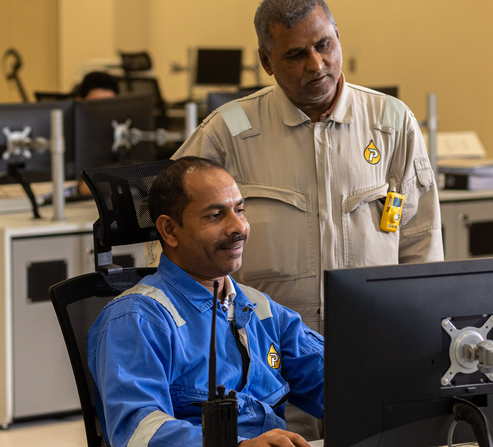 Investors
Shareholder tools and information
Our suite of tools gives you real-time access to our share performance, while our shareholder information page explains the essentials of share dealing in detail.