Petrofac in Africa
Algeria
We are supporting the energy industry in Algeria by developing the most significant oil and gas assets, backing the nationalisation agenda, and training the workforce of tomorrow.
Two decades of excellence in project delivery
We have opened our first office in Algiers in 1997 and have since developed some of the country's most significant energy assets. The Algiers office is supplemented by a busy operations hub and a construction training centre in Hassi Messaoud, in addition to our project sites. Depending on the nature and stage of our projects, we typically employ more than 800 people in Algeria, more than half of whom are Algerian nationals.
Projects
14
People
800+
Supply chain
5,300
Whether we were supporting energy sector leaders – the Algerian national oil company Sonatrach, bp, and Equinor – in the development of two of the largest gas fields in the country (In Salah and In Amenas) or teaming up with peers to boost natural gas production and remove CO2 from gas reserves at Tirnhert, our approach in Algeria is centred around helping create a workforce to best serve strategic projects and continue to create as much local value as possible.
Explore the timeline below to find out more about our journey in Algeria.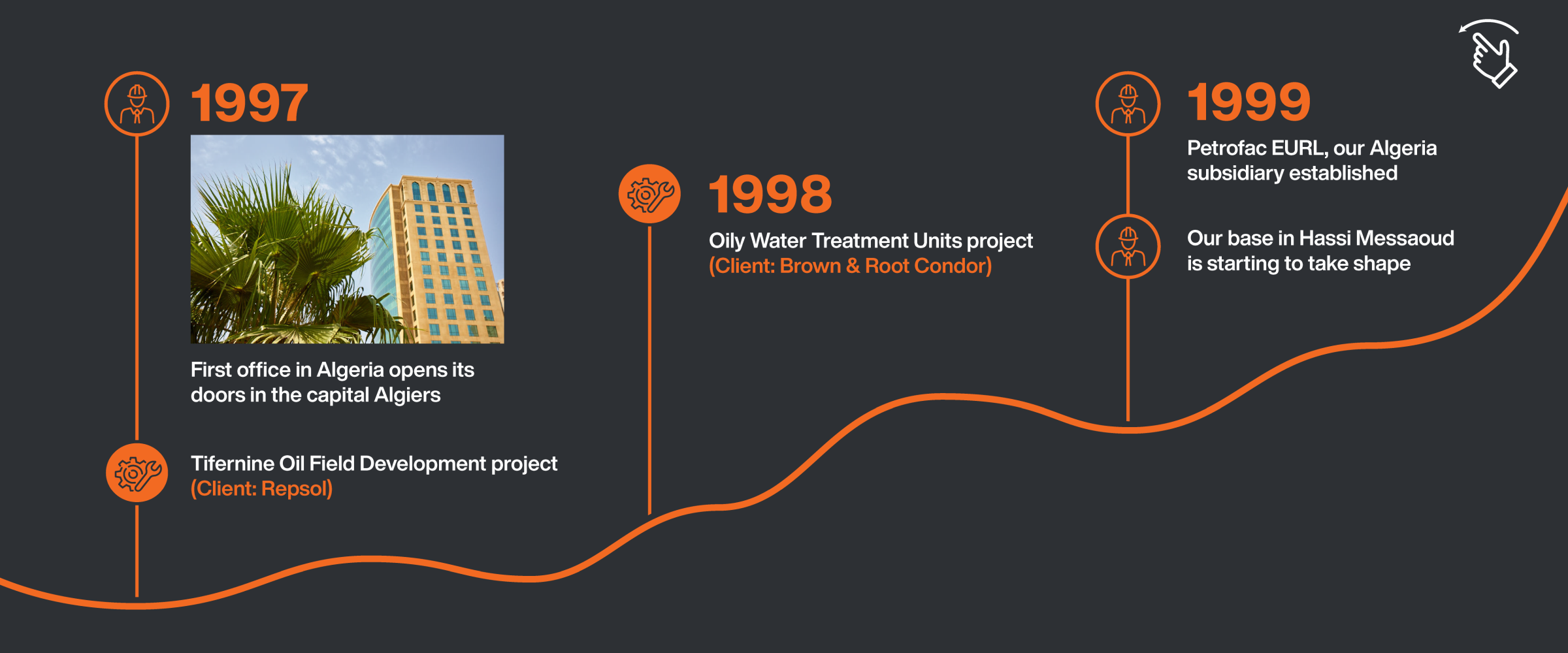 1997 – 1999 Our journey in Algeria started in 1997 when we opened our first office in Algiers. We secured our first contract, Tifernine Oil Field Development project for Repsol, the same year. In 1998 we were awarded the Oily Water Treatment Units project for Brown & Root Condor. It was time to expand our efforts as we established Petrofac EURL, our Algerian subsidiary, and set up a base in Hassi Messaoud in the southeast of the country.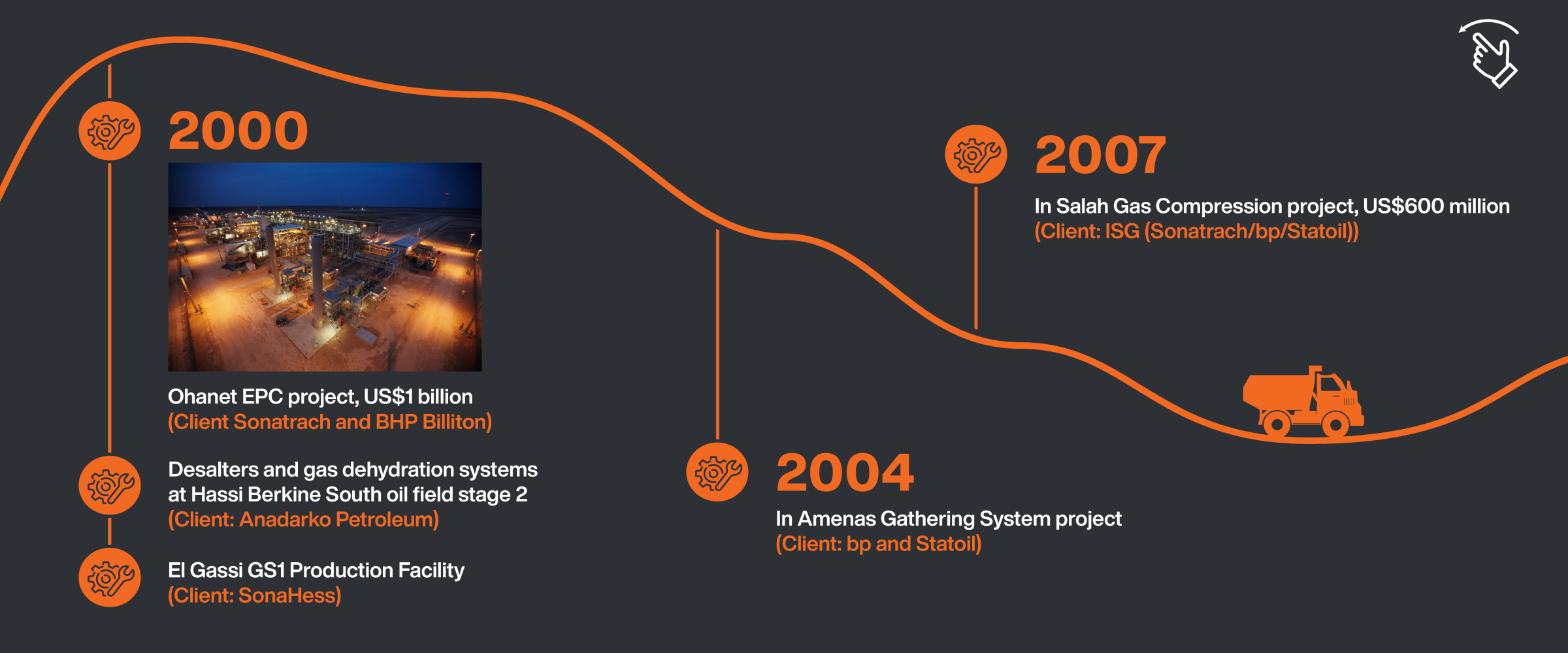 2000 – 2007 The turn of the century was big for Petrofac in Algeria. We won significant awards and started delivering projects for national and international industry heavyweights. The Ohanet project was an outstanding success and will become a career highlight for many of the people involved. We also started working on In Amenas, the largest wet gas development project in Algeria, boasting the development of four primary gas fields in the Illizi Basin in south-eastern Algeria.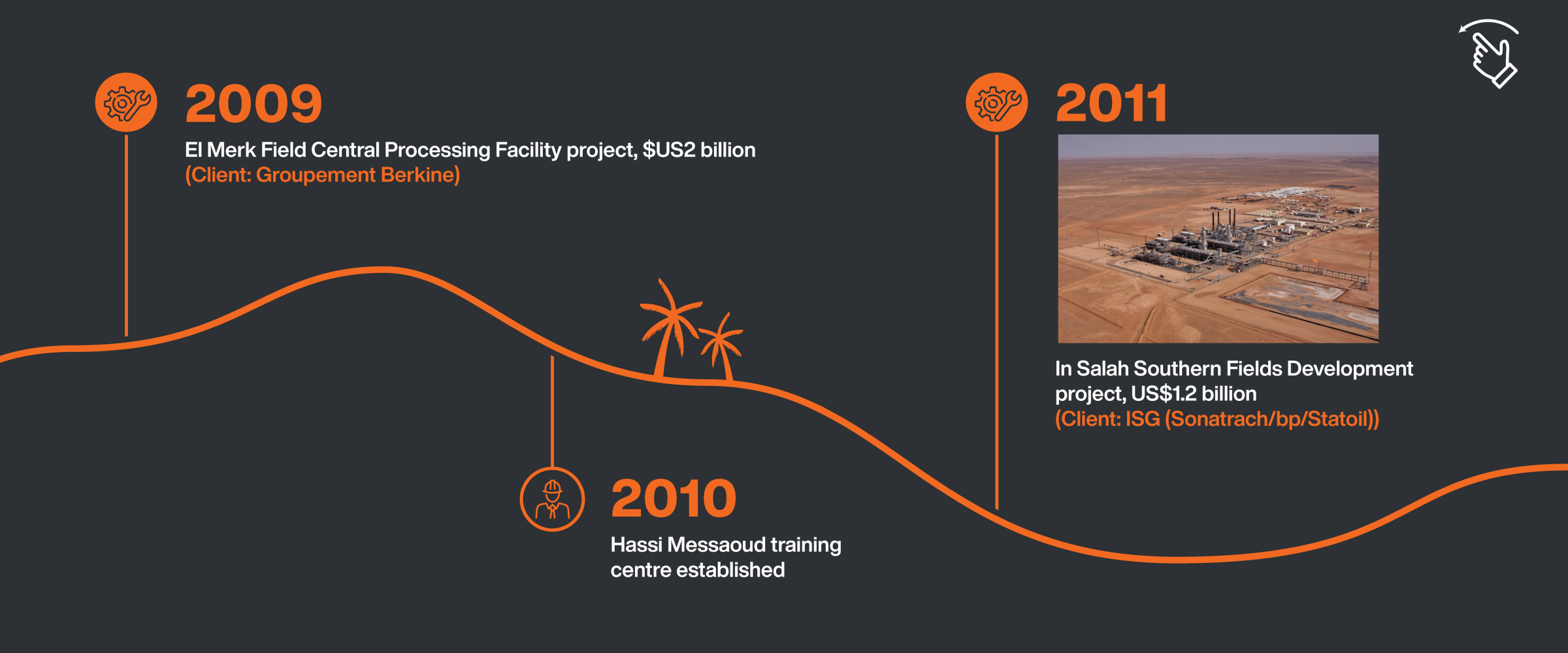 2009 – 2011 El Merk Field Central Processing Facility project was a large and intricate EPC contract, lasting 52 months and built in a remote desert location during a time of global uncertainty. Our 'global reach – local delivery' approach started to take shape and during the project nine in ten of the on-site workers were Algerian. Recognising the need for local talent, we built a training centre in Hassi Messaoud the following year to train and qualify young Algerians.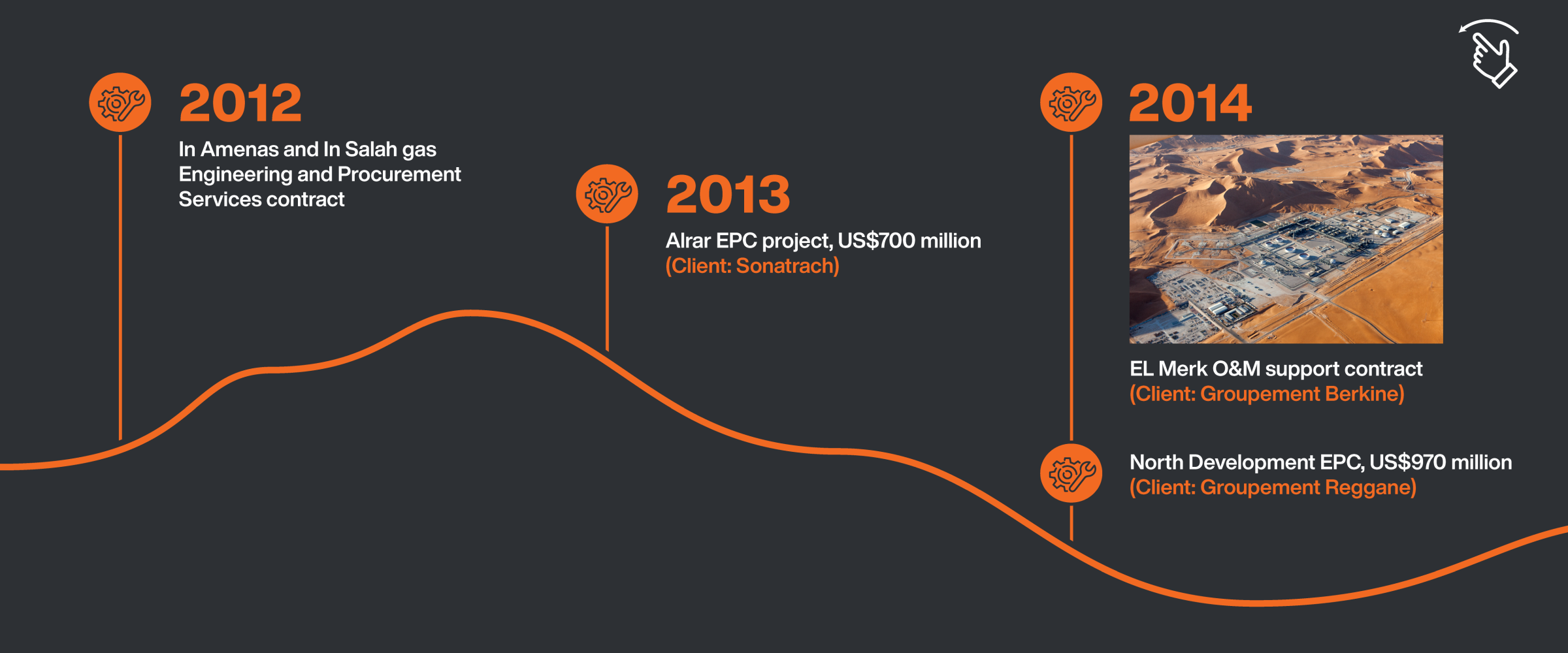 2012 – 2014 In 2013 we were awarded a 32-month EPC contract with Italian contractor Bonatti. We extended the life of the Alrar gas field in southeast Algeria for our client Sonatrach. The following year we were awarded a three-year contract worth more than US$970 million for the gas gathering, treatment, and export facilities package of the Reggane North Development Project in the Reggane basin of the Algerian Sahara Desert, 1,500 km south-west of Algiers.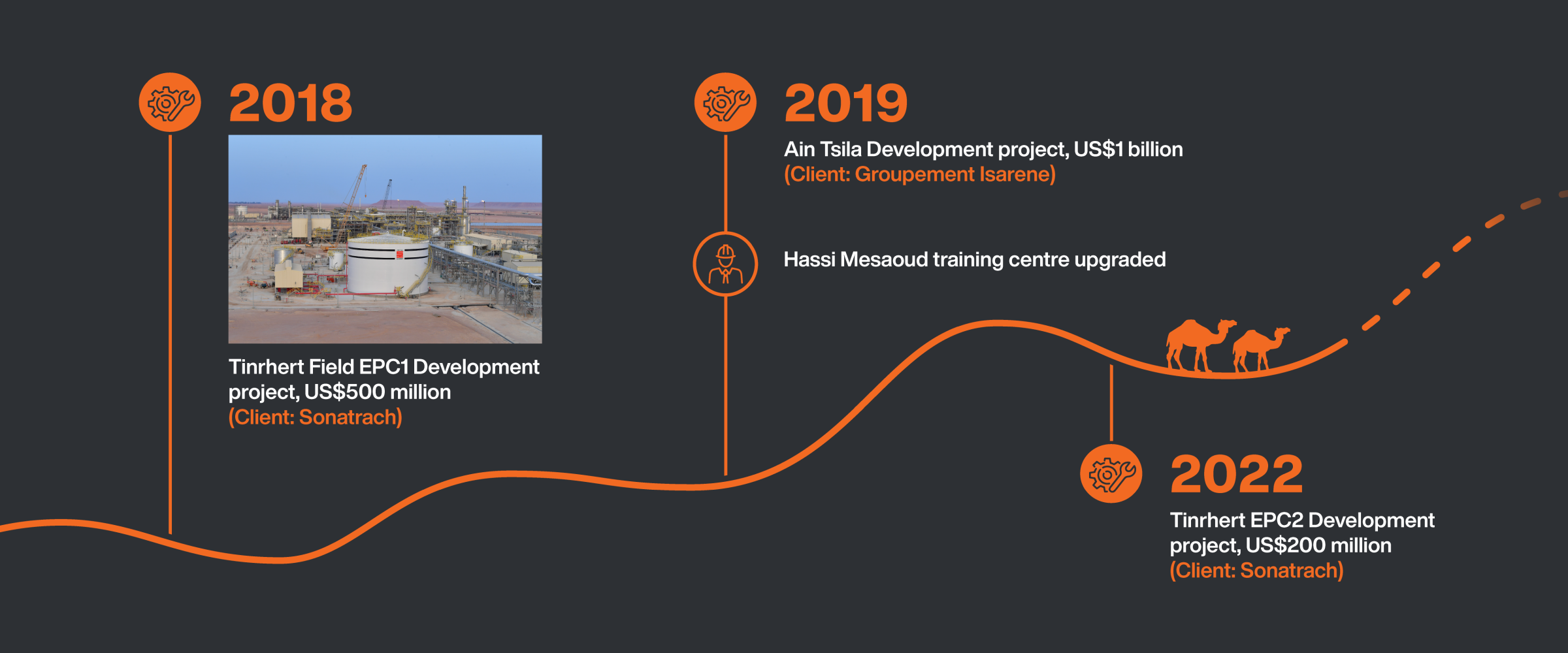 2018 – 2022 Important milestones in this period include the commissioning of both the Alrar gas plant and the Reggane North Development plant. In terms of new business, we have secured Tinrhert Field EPC1 in 2018 and EPC2 in 2022, and the Ain Tsila Development Project in 2019. We have also upgraded and modernised the Hassi Messaoud training centre, which now has the capacity to upskill 400 delegates annually. Our journey in Algeria continues…
Creating local value and helping power the energy of change
From the early days of our first project in Algeria we've nurtured strong relationships with the local communities, invested in the development of local people, and were committed to stimulating the local economy.
In addition to the approximately 800 people we employ in Algeria, more than half of whom are Algerian nationals, several thousand more people are generally employed on Petrofac-led projects through our sub-contractors with the number of Algerian nationals as high as 85%.
As well as employing local people, we continue to invest heavily in their training and development. We designed, built, and operate the Hassi Messaoud Construction Skills Training Centre, with the capacity to deliver skills-based training to 400 delegates annually. A five-year development plan is set to deliver additional modules, third-party certification, and management training for supervisors.
We also nurture and develop local supply chains. In the past five years, 5,300 purchase orders were placed with Algerian vendors and service providers, with an in-country spend of US$642 million, while some 60% of goods and services are typically sourced from locally based suppliers and subcontractors.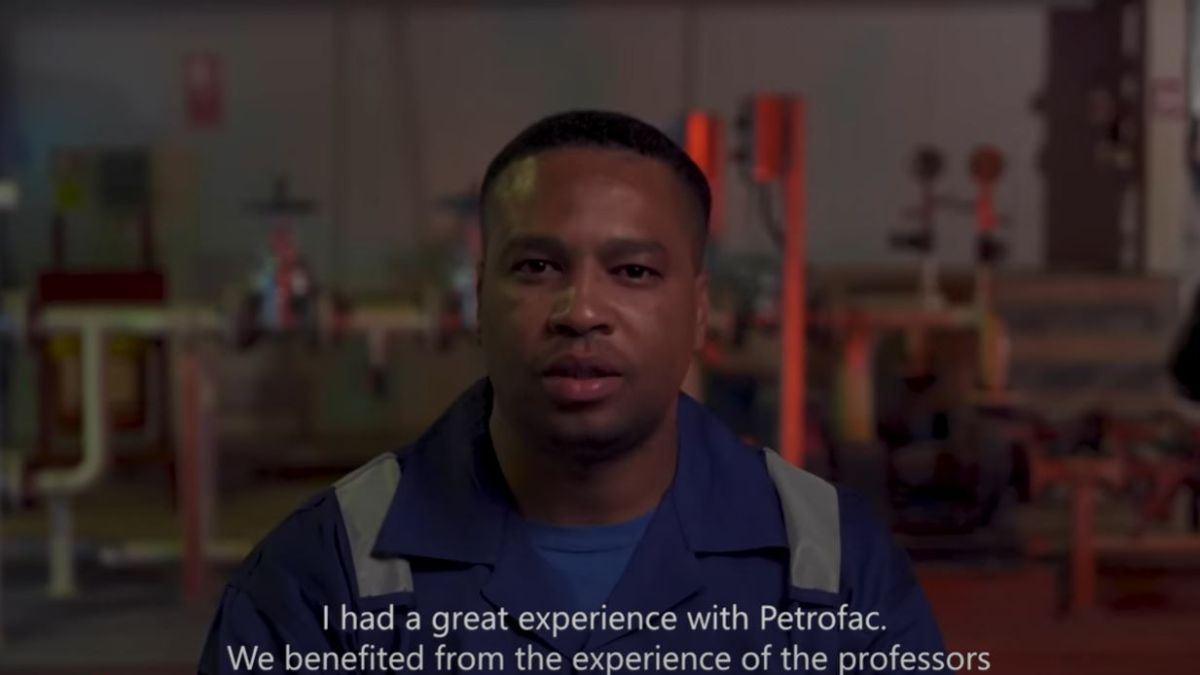 Bringing global expertise to local people in Algeria - Our Hassi Messaoud training centre has a capacity to train up to 400 delegates annually. Facilities include well equipped, air-conditioned classrooms and large open workshops with state-of-the art equipment.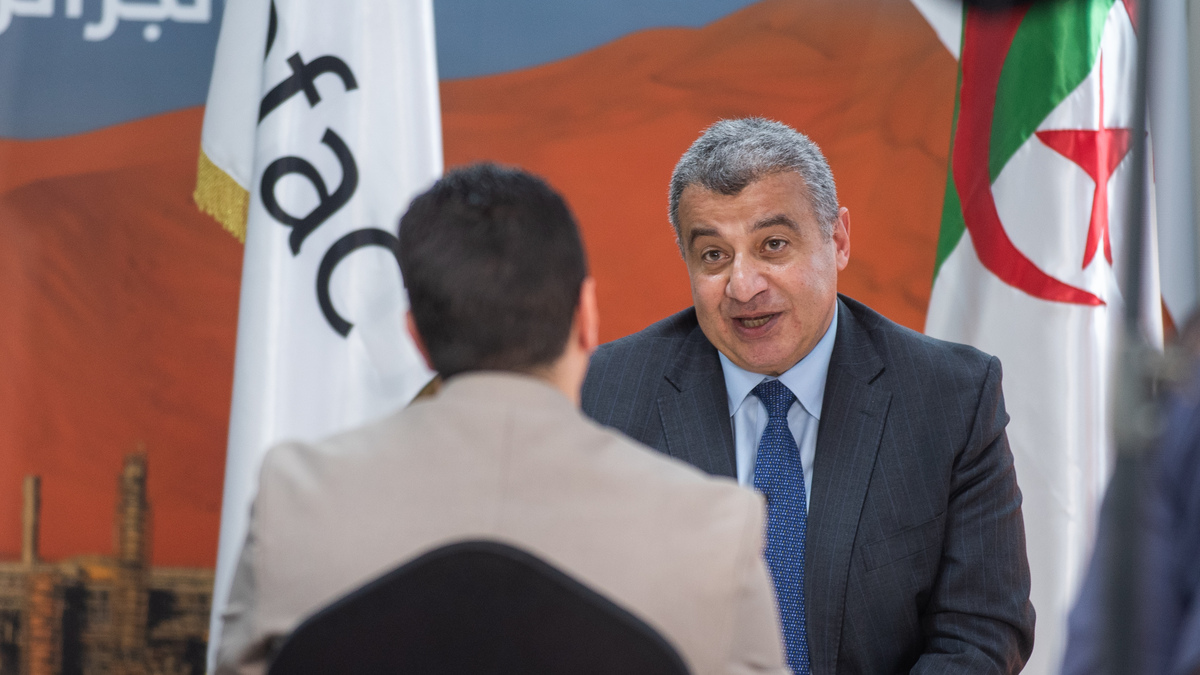 Creating value and training people in Algeria - From the early days of our first project in Algeria we've nurtured strong relationships with the local communities. Petrofac are committed to creating shared value and stimulating the local economy.
Active contributor to the local community
Our local delivery model and our desire to be seen as an Algerian business is further strengthened through our care for the community in which we operate. Through the years, we employed our expertise, relied on our people, and utilised our global presence to help on the local level. Be it importing and distributing oxygen concentrators or helping with the vaccination programmes during COVID-19, or acting locally to improve hospitals, schools, airports, and places of prayer in municipalities and villages, we have made donations and completed numerous initiatives aimed at bettering the lives of local people.