TRAIN
Construction skills training centre supports Algerian nationalisation
We've been committed to the development of local skills in Algeria for decades. In 2010, we designed and built a construction skills training centre in Hassi Massoud with the capacity to train up to 400 delegates each year.
Scope
Training centre design, build and management
DELEGATES
400
GRADUATES
+800
The centre provides training for the next generation of Algeria's oil and gas industry workforce. In addition to providing delegates with accommodation, food and a living allowance, we provide technical and safety skills training that leads to employment directly with us or through our subcontractors. 
We reinaugurated the facility following an upgrade in 2019. Since re-opening, more than 800 people have graduated across five technical disciplines: instrumentation; electrical; mechanical; pipe fabrication and welding.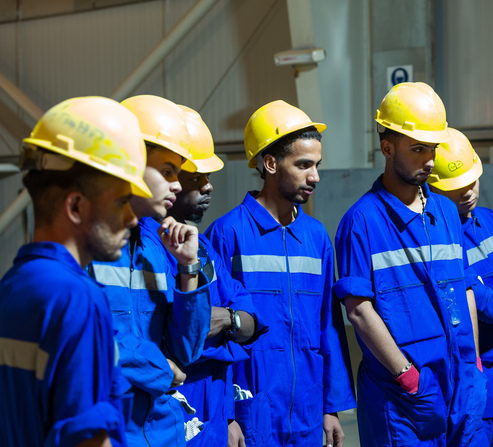 Developing and measuring competence
Trainees build competence through realistic training scenarios using equipment they'll encounter on the job. Competence measurement is incorporated throughout the training programme, developing confident and capable trainees who are ready to join the workforce.
Specialist, skills-based programmes
The training facility offers high quality technical construction training and contains modern, well equipped technical classrooms, offices, workshops, changing facilities and dining and recreational areas. 
The curriculum on offer is primarily skills-based, with a strong emphasis on health and safety, covering five specialist trade areas:
Instrumentation:

 installation and commissioning techniques on pressure, temperature level and flow instruments

Electrical:

 installation and wiring techniques, motor control and electrical measurements for single and three phase systems

Mechanical:

 delegates learn how to install and align various types of mechanical equipment, including pumps, valves, bearings and mechanical seals

Pipe fabrication:

 development, fabrication and installation of pipe spools and fittings and fabrication of 'special' fittings 

Welding:

 taught on plate and pipe to American Society of Mechanical Engineers (ASME) standards, using fillet and butt welds in all positions. Techniques include shielded metal arc welding (SMAW), gas tungsten arc welding (GTAW) and GTAW/SMAW processes.
Knowledge sharing approach
A Training Centre Manager oversees the delivery of all training programmes. All instructors at the Hassi Massoud centre are locally trained Algerians who shadowed experienced instructors when the centre first opened. 
Delegates receive training in French, as well as translated copies of all in-house supporting manuals, training documents, handouts and presentation materials.