BUILD
Digital innovations further enhance brownfield delivery model
Having supported the Cygnus platform for a decade, we continue to drive innovation and efficiencies.
Client
Neptune Energy (previously ENGIE E&P UK Ltd)
Scope
Engineering, Procurement, Construction, Commissioning, Operations, Maintenance, Emergency Response and Decommissioning services to support UKCS assets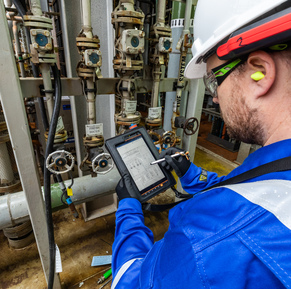 Highlights
50% reduction in time and effort to provide key project data to client
Paperless, workflow-based digital work pack, material management and progress monitoring system reduce admin time offshore and ensures we maintain accuracy and control
Close-out schedule reduced
High volume of wide-ranging brownfield modifications delivered on schedule and within budget
Fast turnaround to replace critical pipework to maintain operations
Long-standing relationship
Having begun working on the pre-operational phase of Cygnus – the largest gas field discovery in the Southern North Sea for 30 years – in 2011, our team has built up significant knowledge of the asset.
Today, in addition to operations and maintenance services and emergency response support, our skilled personnel provide engineering modifications, from front end and detailed design through to construction and commissioning
Fit-for-purpose engineering
Our operations experience on the asset gives us unique insight into the challenges of managing brownfield modifications, helping us to minimise construction impact during ongoing operations.
The high volume of wide-ranging brownfield modifications delivered on the Cygnus platform, on schedule and within budget, include:
- additional living quarters installations
- flowline installations
- laydown capacity extensions
A key achievement for our team was the fast turnaround to replace eight cooler bundles on a critical compression system - all delivered within tight outage requirements.
Scalable delivery
We pride ourselves on flexing to suit our clients' needs and this has certainly been the case with Neptune.
Sizing our delivery team to apply the right levels of governance and risk management, while delivering safe, cost-effective and purpose-met solutions is at the heart of what we do.
Deploying the best people and systems to deliver safely and predictably
We combine our engineering and operations know-how with digital technology to deliver smarter, more predictable results.
The implementation of digital innovations and process improvements has driven a step change in delivery for Neptune and our continuous improvement initiatives include:
Live performance dashboards saving time
Replacing traditional weekly reports and project overviews with bespoke real-time dashboards has reduced time and effort by 50%.
By providing a transparent insight into the project data which is most important to Neptune, the team collaborates to make pre-emptive decisions before issues occur.
Digital work packs increasing efficiencies
Issuing construction work packs digitally has removed the need for hard copies to be printed. Instead, handheld tablets provide our construction teams offshore with the full functionality at their fingertips to access data/drawings and manage the completions phase.
Combined with our material management and progress monitoring system, the digitised work pack reduces administrative time offshore and ensures we maintain accuracy and control.
As the end users of the system, the offshore team have all reported that the elimination of mundane tasks and simplification of the process has increased their operational efficiency.
Rationalised close-out process, reducing schedule
With delays commonly hampering the close-out phase, we collaborated with Neptune to evaluate and re-define all aspects of the process. The review identified that many documents were typically part of the close-out process but added very little value.
The rationalised process has seen a step change improvement in the close out schedule, significantly reducing the time required.
Consistent strong delivery against key performance indicators (KPIs)
A dynamic KPI process is used to measure all improvements and even this was subject to a performance improvement review.
By assessing component parts of the KPI tool, increased levels of performance were set, measured and delivered upon. One example was to extend the digital work pack review period to five weeks to capture all three shifts. This led to an increased level of knowledge and understanding across our offshore operations and construction teams, an improved level of execution and reduced turnaround time for typically delayed elements, including permit approvals.
Efficient supply chain management
As a highly flexible global contractor with the ability to deliver much of the scopes ourselves and the in-house capability to manage all activity, we are well placed to select the best vendors and subcontractors for the job.
Taking full ownership of procurement and delivering complete projects as one team, reduces third-party interfaces for Neptune.
Operations & Maintenance contract extension reflects commitment and success
Alongside our delivery of brownfield engineering services, we also provide operations and maintenance services and emergency response support for Cygnus.
The recent further extension of our long-standing Operations & Maintenance contract recognises the commitment and expertise of our team and reflects our ability to make a difference to the safety and efficiency of the Cygnus gas field.
"Petrofac has been an integral part of the team at Cygnus over the past decade. The awarding of this contract extension ensures we retain skilled personnel with in-depth knowledge of the asset and underlines our commitment to strengthening our relationships with service partners."