OPERATE
Contract extension reflects excellent record in Iraq
The facility that we continue to manage on behalf of BOC is one of the largest in the Gulf and handles around 65% of Iraq's crude oil exports.
Scope
Operations and maintenance
Client
Basra Oil Company (BOC)
Key facts
Years of operations and maintenance service provision
Tankers loaded and sailed
Million hours incident free 
Our contract to provide operations and maintenance services to the Basra Oil Company (BOC) has been extended eight times in recognition of our excellent track record on delivery, optimisation and safety.
As well as providing services on the offshore facilities, we support an additional single point mooring (SPM) which is stored and maintained in Hamriyah Sharjah. 
Delivering value for clients 
We have demonstrated our ability to sustain and improve export levels during our tenure as incumbent operations and maintenance service provider. 
Since our involvement in 2012, we have increased the yearly oil export from 0.5 million barrels per day to 2.1 million barrels per day and supported this facility to export over 4.5 billion barrels of oil.
"Petrofac continues to be a true partner to BOC, ensuring uninterrupted and record exports. We appreciate their commitment, particularly during this recent period, and congratulate them for hitting new export highs."
Maximising production, delivering ahead of schedule
We manage a high degree of risk associated with maintaining facility uptime and export levels. 
We have undertaken works to correct design faults and ensure effective operations, and have expanded our scope to include project management, engineering, construction, commissioning and procurement.
Our robust engineering service maintain asset integrity and provide innovative solutions, such as the first use of a boat lift instead of a crane to remove an SPM from the water. 
Through effective use of existing resources, we completed SPM changeout operations ahead of schedule while achieving cost savings of 30%. During SPM lift, deploying the SPM at short notice, we reduced the required man hours from four weeks to four days, saving 65% on costs.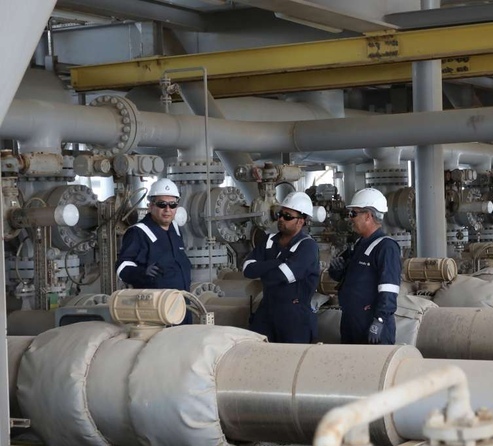 Supporting our workforce
We recognise the importance of physical activity, mental health and wellbeing. Following the closure of ports due to COVID, around 250 crew members from the Iraq Crude Oil Export Expansion Project (ICOEEP) were trapped offshore for an extended number of months. Recognising the challenges associated with being isolated for a long period, we organised Sport Fest 2020. The two-week long extravaganza featured several events with active participation from Petrofac, Smit Lamnalco, AHM, ODC and Olive Group team members.