Petrofac scholarship helps open doors for budding software engineer
Petrofac-funded university scholarship has helped a recent graduate take the next step in his career journey.
Callum Knight, the fourth student to have been supported by Petrofac's Ian MacDonald Memorial Scholarship, recently graduated with first class honours and has already gained employment as a budding software engineer.
The scholarship was established in partnership with the University of Aberdeen in 1998 in memory of Ian MacDonald, a popular member of what was then our *Atlantic Power team. Supporting the next generation of engineers, the fund has been providing welcome financial support for scholars over the five-year period of their engineering or computing degree.
"The scholarship played a huge part in helping me get the grades, as having the financial support meant I didn't have to find a part-time job"
Callum, who embarked on his degree as a second career, attributes much of his success to the opportunities afforded to him through the fund: "Having been out of education for five years whilst working as an electrician, I felt slightly out of my depth when I started university". Maths knowledge rusty, and aware he was joining an intake of sharp 17 and 18-year-olds, Callum enrolled in an introductory maths module.
"It quickly helped me to get into the swing of things", said the 28-year old.
"After that, I dedicated all my time into applying myself to do the best I possibly could. The scholarship played a huge part in helping me get the grades, as having the financial support meant I didn't have to find a part-time job."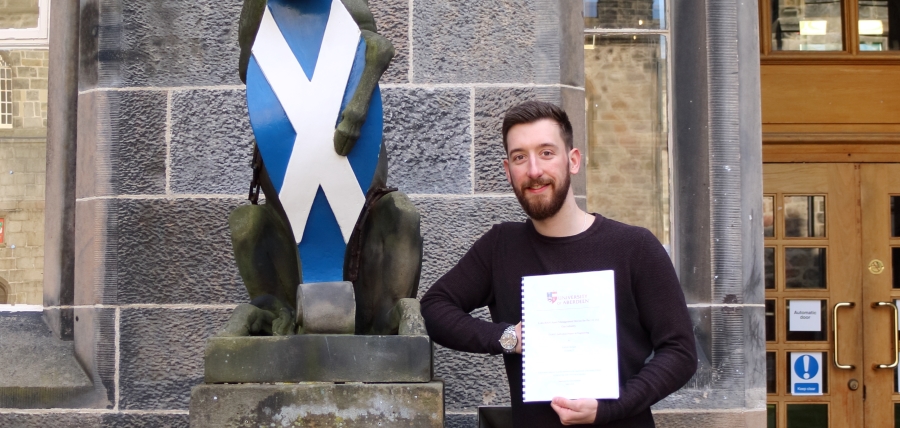 The scholarship also provided Callum with the opportunity to travel abroad for study and work experience. "Throughout my time at university, I got to visit lots of amazing places. I spent a year studying at the Hong Kong University of Science and Technology, and also undertook an eight-week internship at a leading digital services consultancy firm in India. These experiences just wouldn't have been possible for me as a full-time student without the support I received from Petrofac."
Despite the uncertainty caused by the global coronavirus pandemic, Callum has been fortunate enough to receive numerous job offers since graduating in July. "I actually turned down a role as an Artificial Intelligence Engineer, which would've involved developing a fleet of self-driving cars. As exciting as this sounds, I wanted to do something broader in software development and digital technology," he explains.
"I've joined a surveillance and defense technology company in Edinburgh. I'm really looking forward to helping establish and prove technologies that will inevitably help other sectors, like energy, continue to digitalise how they work. For example, the business I'm working for creates drone technologies, which have broad industrial applicability."
Promoting and supporting improved access to STEM (science, technology, engineering and maths) education – and ultimately employment – is a key tenet of Petrofac's social performance standard.
"The Ian MacDonald Memorial is currently taking applications for its fifth scholar", explains Anna Douglas, Petrofac's Head of Diversity and Inclusion. "As Callum's story attests, it helps create grass roots opportunities for the next generation of engineers which is a really important when it comes to maintaining a pipeline of young engineering talent for our industry and others. These are the people who will design and build future energy solutions and the technologies we use to support and maintain infrastructure for our clients.
"Today our challenge extends to creating greater diversity within that talent pool, particularly when it comes to gender. We are exploring with the University ways of supporting industry to inspire a greater number of young females who embark on a career in engineering – watch this space."
* Atlantic Power became Petrofac in 2002.