Lockdown diaries - Minaal R. Sawant, Deputy Manager – Civil and Structural
As an Architect at one of our three Indian Value Engineering Centres (VEC), Minaal's daily working routine used to be full of human interaction.
When a nationwide lockdown was implemented in India at the end of March – limiting movement of the country's entire 1.3 billion population – Minaal's main goal was to successfully maintain hers, and her team's, mental health and productivity.
Welcoming the remote working era
Even though working from home was not a new practice at our Mumbai VEC, it posed an unplanned challenge for Minaal and her team.
"At the beginning we struggled with connectivity, bandwidth, and finding the 'right space' to work in, with infrastructure not being adequate. Add the fact that many of us have kids and needed to keep an eye on them while working, or that some live alone and feelings of anxiety, depression and loneliness started to strike through," she says.
"Team empowerment has become one of the main highlights of the team's lockdown experience"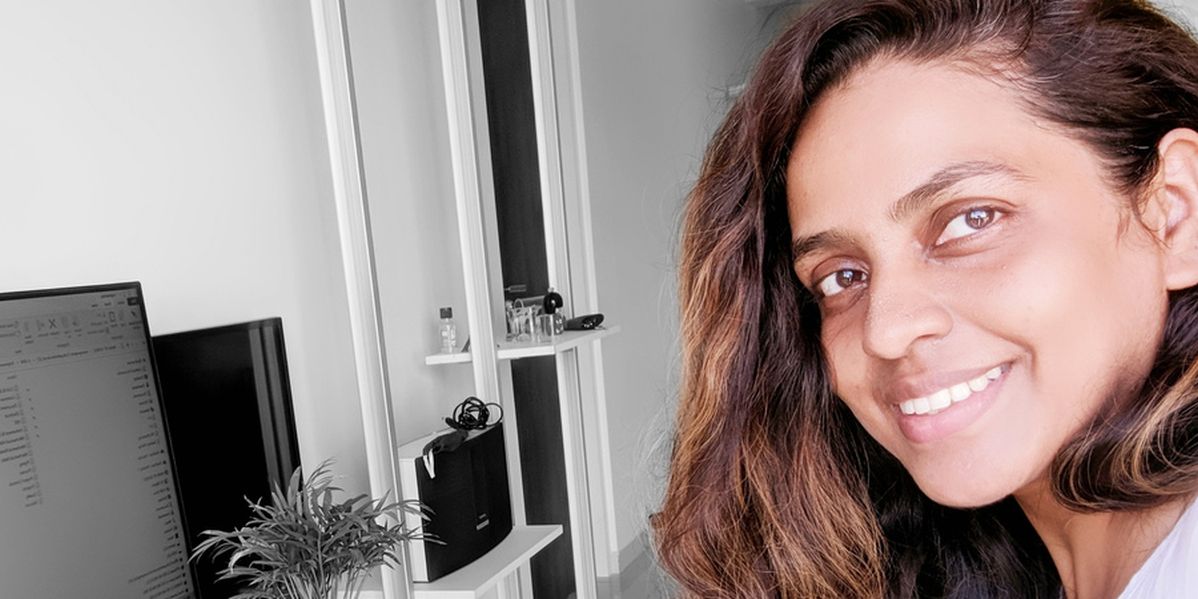 Despite the setbacks, Minaal and her team have strived to develop a feeling of togetherness and have adopted new strategies to keep in touch.
"Team empowerment has become one of the main highlights of the team's lockdown experience. The interaction between us has increased and we now communicate in a flowless manner. There is also a more effective cross-departmental collaboration – the image explains it all."
"An individual is not where one stands in moments of comfort and convenience, but where one stands in times of challenge and adversity," she adds.
Work and life 'on track'
Working from home meant more distractions and limited interaction, which impacted productivity, but it was also a chance to use some of that typical 'architecht' savvy and create a more productive working environment.
"I decided to develop a structured plan to adapt to the 'new normal' and become as productive as if I would be working from the office."
Setting up the workspace – choosing a comfortable space, with a suitable desk and chair
Getting organised – keeping the desk clean and equipped with the essentials: a diary, a pen, chargers and headphones
Mastering technology – learning how to leverage tools and apps to quickly adapt to working from home
A planned workflow – listing down all working tasks for the day and set up priorities
Availability – making sure to appear 'online' to ease communication
Calendar control – avoiding home chores and personal appointments during working hours
Rescheduling distractions – keeping drinks and snacks at a reachable distance so that you do not get up often, and avoid browsing social media
Playing the correct role – by not staying in the 'office gear' once the workday is done
Looking ahead
With many of us transitioning to a 'new normal', we asked Minaal to share her thoughts on what the future holds.
"It has been fabulous to see how companies across the world are operating during lockdown. It looks like video conferencing will be a great solution to keep us all safe, reduce costs and improve efficiency," she comments.
However, as humans, we require contact, conversation, and collaboration to thrive.
"Physical distancing does not imply an ending to our social interaction. It helps us give new lease of life to our existing social relationships."
"Even though video conferencing has shown us that we can excel in many ways, it will not stop us from wanting to have an enriching chat face-to-face with our families and colleagues. When the lockdown ends, I am sure many of us would love to rally together as we used to," she adds.
To summarise, Minaal offers an optimistic view of the current situation.
"Physical distancing does not imply an ending to our social interaction. It helps us give new lease of life to our existing social relationships."