Consider the big, bigger, biggest picture
Pilot-scale substations for floating offshore wind farms

 
Wind power is becoming more critical to our energy mix, with the European Commission estimating that 30% of future global electricity demand could be supplied by offshore wind by 2050.
We actively develop and support this fast-moving, innovative sector with over 10 years of experience designing and building HVAC and HVDC electrical substations. And recently, I had the pleasure of speaking at WindEurope Bilbao as part of the Electrification & System Integration session.
The next stage for offshore wind projects will be the plethora of floating wind pilot projects in deeper waters, further offshore. Once depths exceed the <60m mark, floating wind infrastructure is more viable than fixed bottom solutions.
These pilot projects are expected to be based on generating capacities of around 250MW, far less than for the anticipated commercial-scale floating substations of 1GW or more - and will require a substation to step up the voltage for export to shore.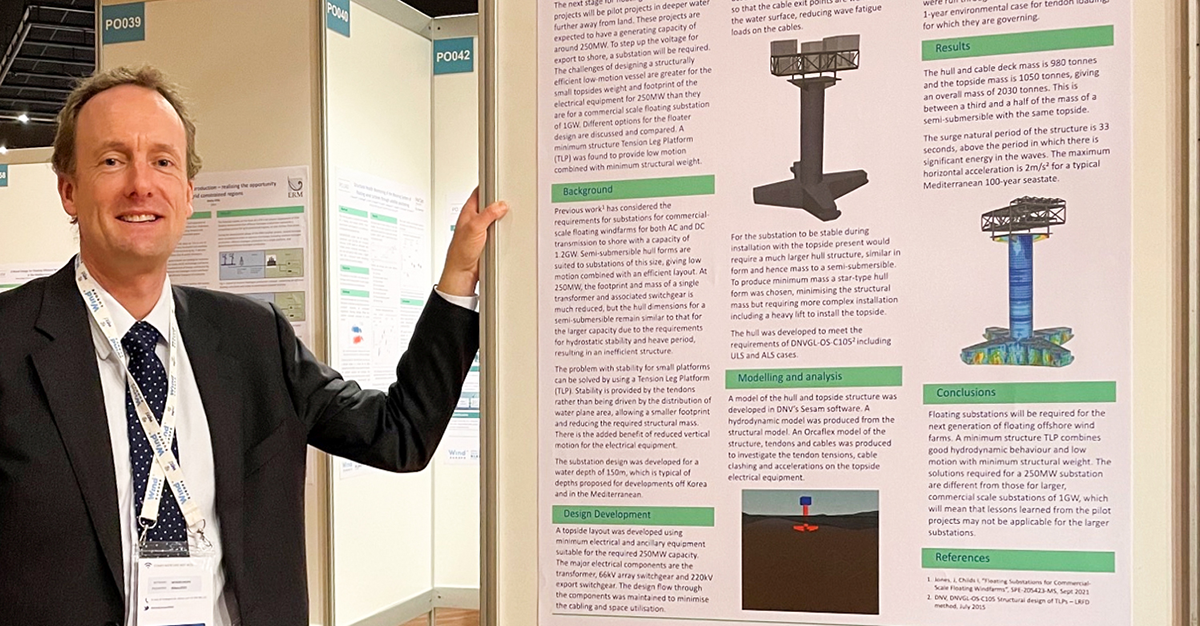 This begs the question, are smaller capacity pilot-scale schemes the best way to navigate the challenges of scaling up floating wind?
The challenges of designing a structurally efficient, low-motion vessel are not the same for a small 250MW facility as they are for a commercial-scale floating substation of 1GW. On the contrary, the challenges for designing for 250MW equipment, which requires a smaller and lighter substation topside, are greater – and may not deliver the valuable lessons needed to inform the development of larger floating substations.
Our team has looked closely at this question and concluded that for a 250MW capacity, a minimum structure Tension Leg Platform (TLP) provided the best low-motion, low weight solution. Here, tendons are deployed to provide stability, rather than relying on a large water-plane area to keep the structure stable when floating. We modelled this solution for a water depth of 150m, typical of depths offshore Korea and potential sites in the Mediterranean.
So, what is the answer to scaling up to 1GW substations?
Scaling down a design for a commercial-scale substation isn't the best solution for pilot-scale projects. Instead, the focus should be on delivering the most efficient structural solution for every pilot-scale project rather than scaling up or down. This will enable us to build the big, bigger and biggest picture so that our learnings drive surety in future design and lead to successful project execution.
Petrofac's rich skillset supports the most complex project challenges.
From the initial development phase, through operations and into late life, we'll help improve the performance and integrity of your energy assets. We're also applying our expertise in supporting new energies projects across a wide range of different technologies.
You can learn more about our services using the links below:
Engineering Consultancy Services