Is debottlenecking the key to safely unlocking asset performance?
With increasing oil and gas prices and rising concern over global energy security, oil and gas Operators have a window of opportunity to assess whether an investment in existing and ageing facilities will enable a quick return through increased production and revenues. 
The key to unlocking value
That's where debottlenecking comes in, where we actively identify and remove barriers causing reduced efficiency or other operational concerns.
Petrofac has been supporting major Operators to define and execute strategies for debottlenecking and rejuvenating facilities to realise capacity improvements safely and sustainably.  
We use a proven methodology to cover:
Identification of potential debottlenecking options

Selection of preferred debottlenecking solutions, in conjunction with the Operator

The preferred debottlenecking solutions defined from a technical, cost and schedule perspective

Design and implementation of brownfield modifications where required to realise capacity enhancements
Critical components for success
Developing a basis for debottlenecking and defining limiting factors is a good starting point; well fluid composition, inlet, and export conditions, for example, and establishing limiting capacities for critical equipment and systems.
Simulating operations with actual operational data will identify options and the impact of any plant/facility modifications, however large or small, on the cost-benefit analysis.
The chart below shows a simple representation of the cost of action and modifications versus additional production on an actual project. The larger cost shown represents changing the compressors in this instance.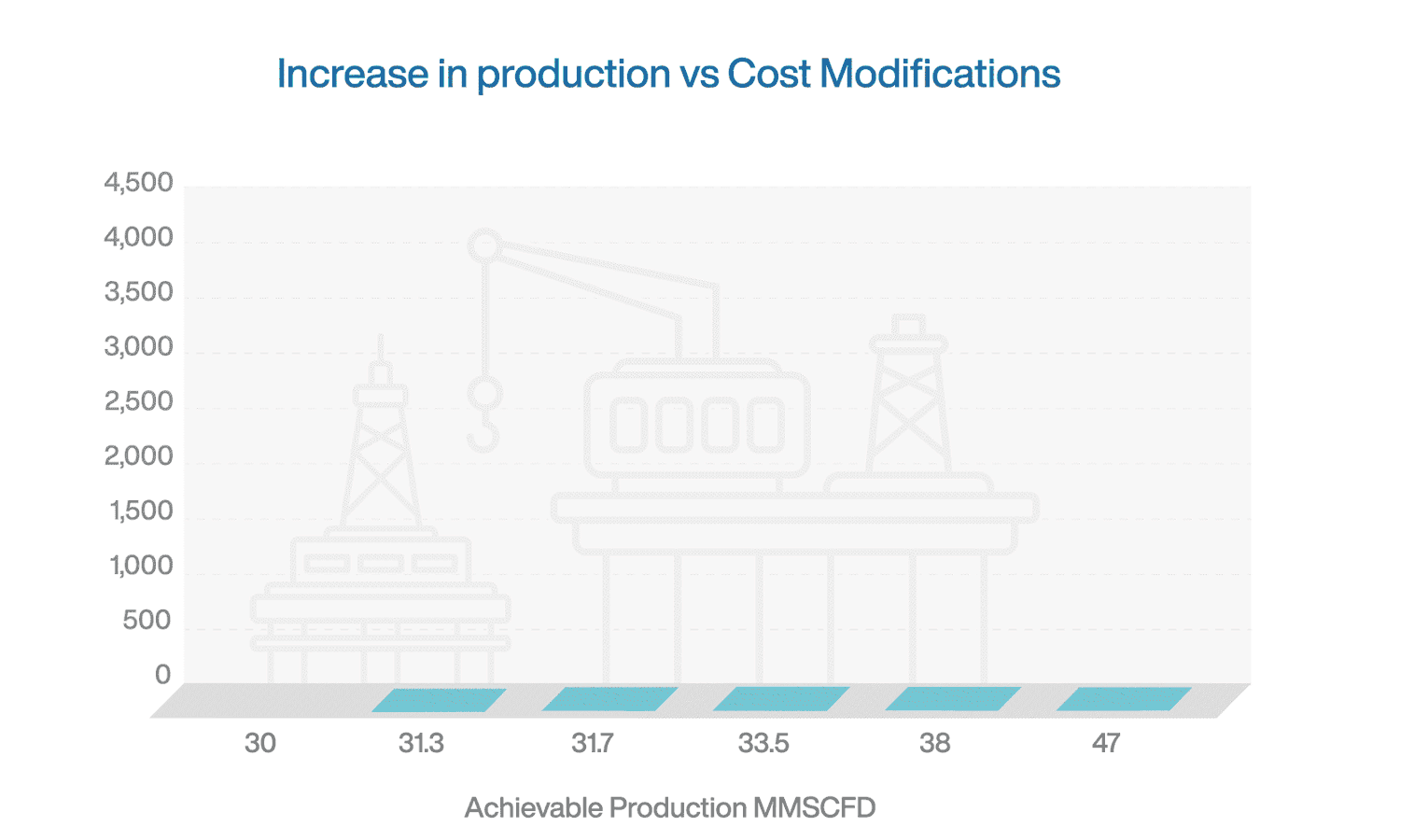 *MMSCFD = Million standard cubic feet per day 
Value goes beyond revenue and extends to safety and reliability
With ageing facilities in particular, the value creation extends to enhancing best practices in asset management. For example, the improvements identified can extend to safety, environmental, reliability and integrity and form a central part of the analysis of the most viable cost-benefit options over a life of field operation, within a particular investment analysis period or by aligning with the Operator's asset management strategy.  
A simple and low-cost study can sometimes be enough to identify "quick wins" in production improvement or identify obvious investment decisions to achieve a rapid payback through heightened production. It's a highly profitable time for Operators. However, it's a critical moment for the energy industry to support and enable a sustainable energy transition. 
You can learn more how Petrofac can support you by clicking the link below.