08 March 2017
Through the eyes of an innovator: Bob Banks
For most of his life, Bob Banks, Mechanical Maintenance Technician, has been making improvements wherever he sees shortfalls.
His inventive spirit has garnered a lot of attention recently, and for good reason: his dedication to safety has driven him to produce innovations that have a real impact on the everyday wellbeing of teams offshore. He's earned a Petrofac EVE Award and industry nominations as the creator of the Work Area Safety Pack (WASP) and the Drops Prevention Safety Kit – both commercially manufactured and in regular use across the North Sea.
Inspired at an early age by his father, who Bob describes as "a great problem solver; always building and designing things and forever coming up with all kinds of clever innovations", his tendency to seek out inventive solutions started showing at age five when he attempted to fix his mother's broken glasses with string.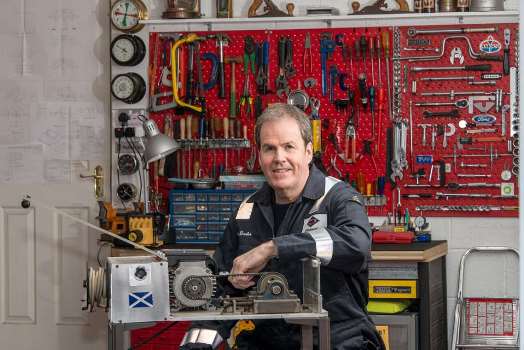 Innovation and creativity are key factors in delivering a differentiated service to our clients, and of course safety is always a key priority. So naturally, we wanted to understand what makes Bob do what he does; how he thinks and approaches problems to come away with inventive solutions.
Bob has a list of the things he wants to improve, and it grows by the day. "My family are used to me disappearing into the garage for hours on end. It's both tiring and energising as I tend to get a bit obsessed until I've cracked it, which is a very satisfying feeling!"
From creating a dust extractor on a handheld jigsaw by rerouting a cooling fan, at age 18, to a complex industrial power transmission timing belt connector that he built from scratch, there is a common approach that Bob takes to all his innovations.
"I approach a problem systematically by highlighting the issues of concern and then listing as many possible solutions as I can; no matter how crazy they seem. I decide on the most practical solution and reduce it down to its simplest form. The secret is to resist over engineering and to make it as user friendly as possible." Bob knows he's come up with a great idea when people think the concept is so simple they wonder why they hadn't been able to come up with it themselves.

For Bob, problem-solving has been the catalyst for creating something new; something of value that has propelled him into the exclusive club of being regarded as an inventor. His commitment and ingenuity has helped battle complacency and progress safety standards in the offshore industry.
When asked about the recognition he's been receiving Bob says, "I want to energise others to live the Petrofac values in terms of safety and innovation, and encourage them to think of simple, practical ideas of their own. Seeing your own concepts come to life is fantastic – especially when they make a real difference to people's lives."
Find out more about our values and our culture