Sustainability
Our approach to sustainability and ESG
Our sustainability strategy is structured around Environment, Social, and Governance pillars, widely known as ESG. These are indivisible from what we do as a company, and we engage with representatives from various groups of stakeholders to understand what matters to them, and how we can align our ESG priorities to the material issues we identify.
Understanding what matters most to our stakeholders
We regularly engage with clients, suppliers, investors, NGOs, policymakers, employees, and our supply chain, to fully understand what matters most to them. As a result of these discussions, we identified material issues for our business and aligned our targets to them.
We aim to minimise our own environmental impact, while supporting our clients in achieving their lower carbon ambitions.
Making progress on our sustainability strategy
Our material issues
Our targets
Progress in 2021
   In progress        Progressing        Target not achieved
Addressing climate risk
Net Zero by 2030
(Asset Solutions by
2025)
Scope 1 & 2 emissions were reduced by 22% and we started reporting against Scope 3 emissions
Spill prevention
and response
Zero pollution
We made progress in preventing and reducing spills, though unfortunately had one recordable spill, with a volume of two barrels
Promoting a circular economy
Circular economy
adopted by all sites
We launched our No, Less, Better plastic reduction strategy and eliminated single-use plastics in our main offices
Sector leading
health and safety
Zero harm
Tragically, we saw one fatality on a third-party contractor activity. We have taken far-reaching actions to address the underlying causes and remain determined to achieve our zero-harm target
Enhancing diversity
and inclusion
30% women in
leadership roles
by 2030
We increased the proportion of women in senior management to 25% and adjusted our target of 30% by 2030 bringing it forward by five years to 2025
Respecting human rights
All third parties
screened for
human rights
We screened 100% of third parties for human rights violations, and no incidents of modern slavery were reported. However, at lower tiers of our supply chain, we did undercover labour rights violations (late salary payment)
Optimising in-country value
Sector leading
local delivery
The proportion of locally-sourced goods and services increased to 54%, reflecting our continued investment in our local delivery capability
Embedding ethical values and behaviours
No regulatory non-compliance
We worked with the Serious Fraud Office to bring to conclusion the investigation into seven historic offences of failing to prevent former employees from offering or making payments to agents in relation to project awards between 2012 and 2015. We have taken responsibility, reformed, and learnt from these past mistakes, as acknowledged by the SFO and the Court
Enhancing transparency, governance and disclosure
Full compliance
with TCFD
We successfully completed our first climate response report, which achieved full compliance with the TCFD recommendations and was recognised by the UN Global Compact as good industry practice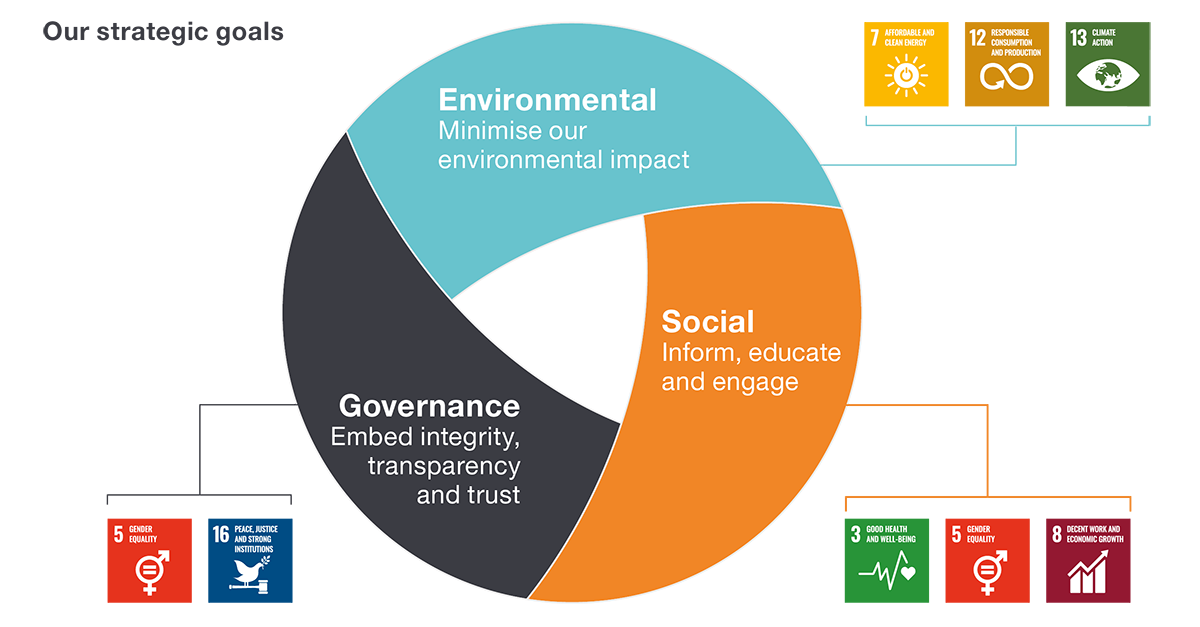 ENVIRONMENTAL
0
SOCIAL
30%
Governance
100%
"Our business model and our ESG agenda are completely aligned. We see the energy transition as a strategic opportunity, the creation of in-country value is central to our local delivery model, and our best-in-class delivery is characterised by uncompromising commitments to ethical behaviour, safety, employee wellbeing, diversity and inclusion."
Aligning with the Sustainable Development Goals
We have aligned our sustainability strategy with the seven UN Sustainable Development Goals most relevant to Petrofac's business.
We aim to work in partnership with our stakeholders to progress strategies that improve health and wellbeing, reduce inequality, tackle climate change, and preserve biodiversity – while championing a low-carbon economy and enabling economic growth.
We are also a signatory of the UN Global Compact, and this report serves as our Communication on Progress on the implementation of its 10 Principles. The report is also prepared in accordance with the Global Reporting Initiative, the Sustainability Accounting Standards Board, and the recommendations of the Task Force on Climate-related Financial Disclosures (TCFD).