14 August 2017
Turning in the wind's direction
In Drydocks World (DDW), Dubai, a platform is taking shape that will be transported to the North Sea to deliver renewable power to more than one million German homes.
Around 1,500 workers are engaged in the construction of the BorWin gamma platform at the DDW site, which extends across an impressive 10 square kilometres. Such is the scale of the site that many of the staff use bicycles to get around!
The BorWin3 project began when TenneT awarded a contract to Petrofac, together with Siemens, to build a 900-megawatt direct current grid connection system nearly 130 kilometres off the German coast.
It's one of the largest offshore projects under construction in the UAE. Nearly five square kilometres – half of the DDW area – has been taken up by the project and the finished platform will weigh the same as 12,000 saloon cars. It's also a giant demonstration of Petrofac's diversification from oil and gas into renewable energy.
We talked to some of the key people who are helping to bring the BorWin gamma to life…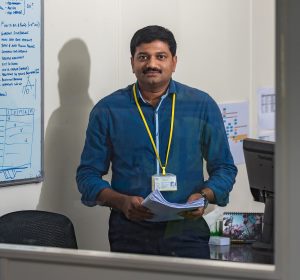 Francis Joseph, Senior Project Engineer
"You could say it's like a classic oil and gas platform structure but instead has a heavy transformer inside."
Francis' job has been to take Petrofac's concepts and engineering designs and explain them to DDW's workforce, which is building the converter platform. The project was split into three phases: initial concept, basic designs and detailed engineering.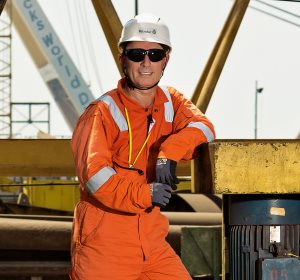 Raffaele Distasi, Senior HSE Manager
"In 30 years of being involved in offshore construction, this is the most intricate operation I've worked on. It is like we are building a giant egg box. There will be a lot of sophisticated equipment inside, so we have to be sure that we keep these contents safe. This has meant being very clever with the design, to create a robust chassis that also allows for flex."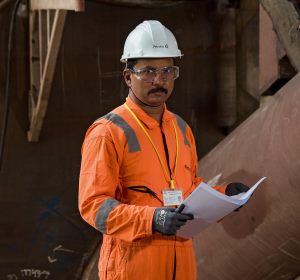 Balagopal Nair, Project Quality Manager – engineering and procurement
Balagopal has been involved with the project since the outset. His team works with vendors worldwide, reviews the inspection and test plans and makes sure the goods are manufactured to the correct specifications. They review vendor submissions, approve the documentation and set key inspection stages to ensure everything conforms.
"We use a lot of pipes, steel plates and sections and we submit this bulk material to a final inspection. However, more complex items such as compressors and pumps, based on the criticality and complexity of the equipment, go through more stages of inspection."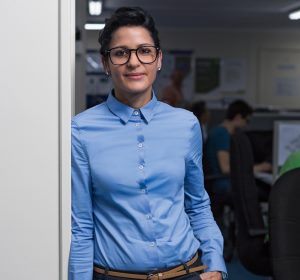 Lisa Diab, Delivery Manager
"It's been really interesting and exciting to be involved because of the challenging nature of the project."
Lisa's team makes sure the right material turns up at the right time. "We're in charge of interface management - talking to the client, the engineers, the buyers, the vendors, the fabrication team and the project management to ensure that everything needed for construction is available."
Working with a team of 10 project engineers, Lisa has to keep tabs on 110 different packages, which include structural steel, pipes, generators, vessel compressors, and pumps and other utility packages. This is a fairly unique project for Petrofac, and one of the biggest platforms we've yet designed. And because of the specific nature of the project, all this had to be specially designed and manufactured to comply with European and German codes and standards.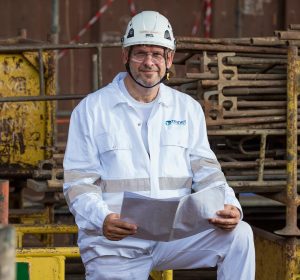 Manfred Reinsch, TenneT's site manager
"There has been a lot of effort from everybody involved, from Petrofac, Siemens, DDW and ourselves to make it a team effort. There is a constant exchange of information on a daily basis. It's been very constructive and there has been a lot of respect and tolerance on all sides."
For Manfred, the success of the project to date has been the collaborative approach of all the parties. "The effort spent by Petrofac on design and auxiliary equipment is not to be underestimated. There are a lot of people involved and many challenges, but Petrofac is really putting in a lot of effort to build a good and reliable topside."