11 September 2014
Reaching new heights with Petrofac
The next generation of the oil and gas industry are ready to reach new career heights after an action-packed first week with Petrofac's Offshore Projects & Operations (OPO) business in Aberdeen. Twenty two new graduates and four design and draughting trainees have joined OPO's graduate and apprentice future talent programmes this year.
Before embarking on their first working week, the graduates and trainees received a full induction programme which gave them an introduction to the oil and gas industry and to Petrofac. The week also included a team building day at Transition Extreme, a world-class extreme sports facility in Aberdeen, where they took part in a range of activities at height, working closely together to problem solve and overcome challenges.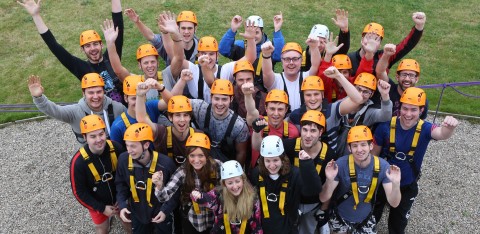 The OPO graduate programme started in 2009 with an intake of two people. Since then it has recruited more than 90 graduates, whilst gaining accreditation from four major institutions: the Institution of Chemical Engineers (IChemE), the Institution of Civil Engineers (ICE), the Institution of Mechanical Engineers (IMechE) and the Institution of Engineering and Technology (IET) – the last two of which have been reaccredited this year.
The first two years sees the graduates undertaking a structured programme comprising of key learning elements, followed by two years in a supervised development role, receiving on-going support from a mentor to help them reach chartered status or full professional membership within their discipline.
Garry Steel, Engineering Graduate, said: "Upon leaving university I wanted to pursue a career in oil and gas and join a company that offered a well-structured and accredited graduate programme, where you would be supported to achieve your professional aspirations.
"With Petrofac I'll gain exposure to all the different areas of my discipline as well as the wider industry, which I feel is important in the early stages of my career as it will help me develop into a well-rounded engineer."
Petrofac has also welcomed its largest intake of offshore maintenance apprentices; ten new recruits will start a two year course at Forth Valley College in Falkirk, before joining Petrofac offshore for a further two years to become qualified maintenance technicians. The course is delivered in partnership with industry bodies Oil & Gas UK and OCA, as well as skills development organisations ECITB and OPITO.
Paul Matthews, Human Resources Director, Petrofac Offshore Projects & Operations, said: "I'm delighted to be able to welcome thirty six new graduates, trainees and apprentices to the business.
"We have a strong focus on attracting young talent to the industry and having programmes in place to support and develop them to their maximum potential. These schemes link into Petrofac's continuing investment into Science, Technology, Engineering and Mathematics (STEM) programmes, encouraging young people to remain engaged in STEM subjects at school – which we feel is key to the long-term sustainability of the industry."
Petrofac is returning this year as a sponsor of the TechFest secondary schools outreach programme and will be delivering its very own workshop to help pupils explore the world of oil and gas.