21 April 2016
Petrofac unites oil spill responders
Petrofac has welcomed more than 100 of the industry's offshore oil spill response stakeholders to an inaugural event, hosted in collaboration with Marine Scotland, with the aim of facilitating engagement between experts and responders within the offshore oil spill community.
Unified Response was attended by representatives from major operators, service companies and regulatory and government agencies; many viewing this event as a critical networking opportunity, with cross-organisation and agency engagement taking place on this scale for the very first time.
The programme included a colourful keynote speech from Professor Colin Moffat, Head of Science for Marine Scotland, who spoke about the importance of working in partnership to respond effectively and preserve the UK marine environment. The guests were then transported to an offshore platform control room by Petrofac's Major Emergency Management team, who performed a live simulated response using visuals and sound to depict an offshore well blow-out incident.
The day-long seminar also focused on the critical capabilities and interface arrangements required to manage a major offshore oil spill incident, with delegates hearing from a diverse range of senior speakers from respected organisations including SOSREP, DECC, Maritime & Coastguard Agency and Scottish Government.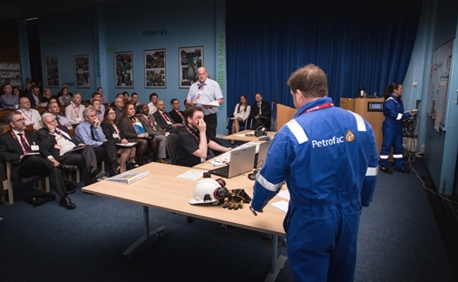 James Kirk, Director of Training Services, West, Petrofac Engineering & Production Services said: "On a daily basis Petrofac interfaces with an extensive and diverse range of clients and regulatory bodies and as a result have an unrivalled  understanding of how best to support our clients and the wider industry to manage and withstand the pressures of an oil spill incident.
"We developed the Unified Response event as a way to improve collaboration and bring the wider responder community together. This platform has enhanced all participants understanding of the roles within a response team, including how we can work collectively to deliver world class planning and approaches to offshore oil spill incidents. Given the success of this event we look forward to facilitating another Unified Response seminar in the future."
Professor Colin Moffat, Head of Science for Marine Scotland added: "This is an excellent opportunity for the responder community to come together to build networks and understanding of roles and capabilities, ensuring our response to a major offshore oil spill incident is optimal, minimising the impact on Scotland's marine environment."