25 April 2016
Petrofac staff raise more than £42,000 for Aberdeen children's charity
More than £42,000 has been raised by Petrofac's charity-minded staff in Aberdeen to help the North East's premature and sick babies.
Friends of the Special Nursery is the charity of Aberdeen Maternity Hospital's neo-natal unit. It was selected by Petrofac teams at the end of 2013 as their chosen charity and a two-year fundraising campaign began.
Teams got together within their departments and they each came up with their own fundraising ideas which included a World cup predictor game; book and bake sales and the management team even carried local Wheelchair athlete Kenny Herriot to the top of Bennachie and back again.
The funds raised are life changing and have enabled the unit to purchase a new Giraffe Incubator.  The incubator is an essential piece of equipment which enables the unit to promote stability and growth in fragile premature newborns; but it is a high cost item.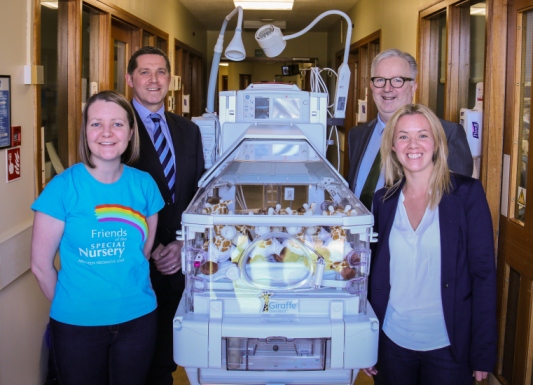 Left over funds were put to good use to tick off some other items on the charity's 'wish-list' including a height adjustable cot and a drinking water unit for parents and visitors.
Walter Thain, Managing Director - West, Petrofac Engineering & Production Services, said: "The enthusiasm and generosity of our staff over the last two years has been exceptional.  Despite recent challenging times for our industry the drive for fundraising has not been dampened.
"We can see first-hand just how vital this money has been for the unit and I know that our teams will take pride in knowing that they made this possible.  We chose Friends of Special Nursery via a vote for nominated charities put forward by our staff.  I was so surprised by how many of our team had first-hand experience of premature birth and the decision to support the unit was very important and personal to them. 
"We would like to take this opportunity to wish the charity the best of luck in all their future fundraising and commend the staff at the unit for the excellent care and support they continue to provide to so many North East families."
Kirsty Bishop, Chair of The Friends of the Special Nursery said: "We are incredibly grateful for the amazing support from the Petrofac team over the past two years.  Their dedication to fundraising efforts has been tremendous and we really can't thank them enough for raising such a significant amount of money."