19 October 2018
Petrofac/Saipem/Samsung consortium awarded refinery project in Thailand
---
You can find out more about the project on the project page Thai Oil Clean Fuels Project - Sriracha Refinery, Thailand
---
Petrofac, the international oil and gas services provider, leading a consortium with Saipem S.p.A. (Saipem) and Samsung Engineering Co Ltd (Samsung), has received an award notification for Thai Oil Public Company Limited's (Thai Oil) Clean Fuels Project on the East coast of Thailand.
The overall project value is around US$4 billion, of which Petrofac's share is around US$1.4 billion, and will be completed over a period of approximately four years. The project will transform the existing oil refinery in Sriracha, Chonburi, into an environmentally-friendly facility, which will produce higher quality transportation fuels. The project will also increase the refinery's production capacity from 275,000 barrels per day to 400,000 barrels per day.
The scope of work encompasses engineering, procurement, construction and commissioning services. The contract includes improvements and expansion at the existing facility as well as the addition of new complex processing units, all required utilities and supporting facilities.
Sunder Kalyanam, Group Managing Director for Petrofac's Engineering & Construction Growth business said: "We are delighted to have secured this contract and to be leading the consortium on delivery of an important project that will enhance the country's long-term energy stability and economic development, and boost its output of high quality clean fuels. We look forward to the safe and efficient delivery of this project for Thai Oil."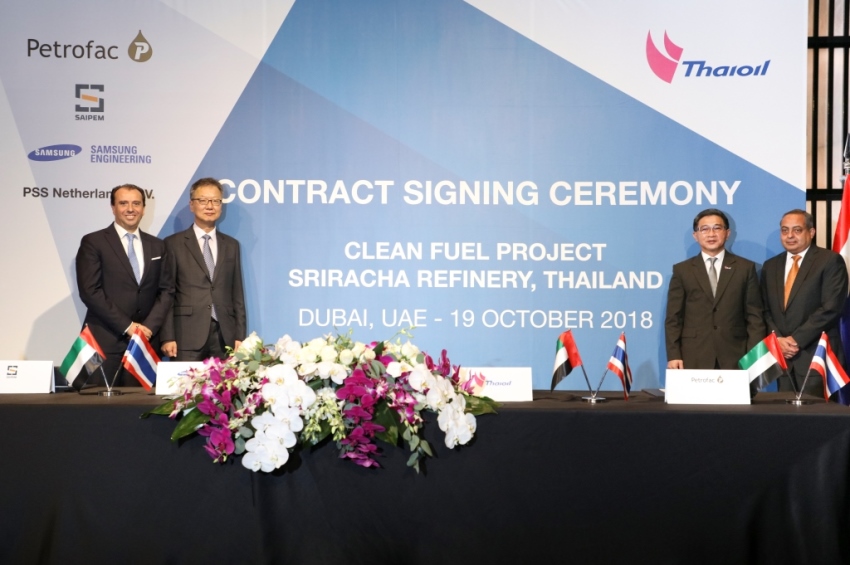 Left to right: Antonio Carredu, Head of Onshore BD, Commercial and Tendering, Saipem, Sung An Choi, CEO and President, Samsung Engineering, Kuhn Atikom Terbsiri, Chief Executive Officer and President, Thai Oil, Sunder Kalyanam,  Group MD, Petrofac Engineering & Construction Growth.
Petrofac has had a presence in Thailand since 2011 and has a contract until 2023 to provide operations and maintenance services for the FPF-003 floating production, storage and offloading (FPSO) vessel on behalf of field owner Mubadala Petroleum on the Jasmine Field in the Gulf of Thailand.