07 July 2016
Petrofac's Rising Stars recognised at Royal Academy of Engineering awards
Every year, the Royal Academy of Engineering (RAE) hosts an awards dinner, at which the sponsors are given the opportunity to nominate two early career engineers they think deserve special recognition.
Petrofac nominated Sam Lisney and Jeen John as its 2016 Rising Stars.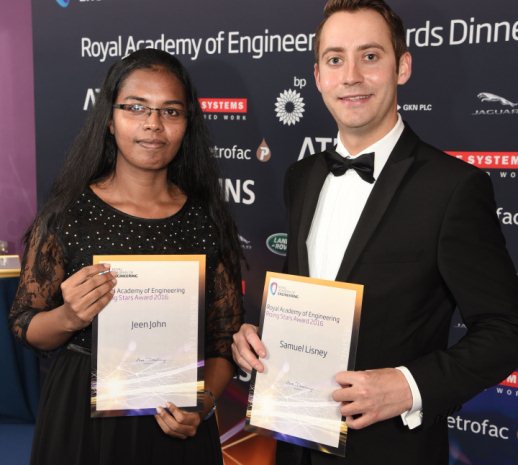 Sam joined us in 2013, and is currently working on our Ithaca Project in Gdansk, Poland.
Sam has also made a big contribution as chairman of the Company's graduate committee in Woking, working on behalf of the whole graduate community to develop the graduate experience.
Jeen joined our company in 2012, and worked on our Sohar Refinery Project in Oman.
Working with experienced team members, Jeen finalised pipe rack design concepts that were safe, accurate and highly economical.
Sam and Jeen received their certificates at the RAE awards dinner held recently at the Pavilion at the Tower of London.
Sam commented: "To receive this award from the Royal Academy of Engineering, in the presence of HRH Princess Royal and HRH Duke of Kent, was a fantastic experience and one that I will never forget.
"The event was also a fantastic opportunity to meet engineers at the top of their fields in a wide range of industries."