20 July 2015
Petrofac Rising Stars recognised at Royal Academy of Engineering Awards Dinner
Two Petrofac engineers were honoured by the Royal Academy of Engineering (RAE) for their 'exceptional engineering contributions in the early stages of their careers'.
C M Parvathy and Marie Derraik were each presented with a Rising Star Award at the annual RAE Awards Dinner held at the Landmark Hotel in London.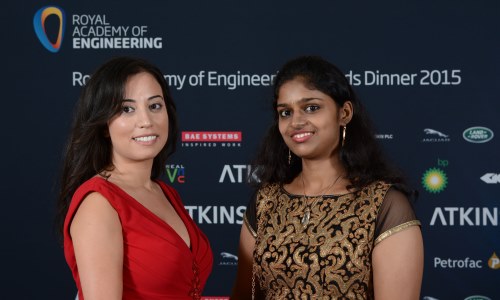 C M Parvathy from our Engineering & Consulting Services business in Chennai and Marie Derraik from Onshore Engineering & Construction in Sharjah received their awards from Royal Academy Fellow, Dr Bob Joyce at the annual awards dinner.
The dinner was attended by HRH The Duke of Edinburgh, Senior Fellow of the Academy, and senior representatives from leading British companies, universities and research institutes.
Petrofac was one of the evening's sponsors and its contribution was recognised by the President of the Royal Academy of Engineering Professor Ann Dowling in her opening remarks.
At Petrofac, engineering is at the heart of our business.  The capability of our workforce is vital for our success.
Our Group-wide talent management strategy aims to address the increasing demand for talented engineers in the oil and gas industry by identifying and developing rising stars within the Company.   This is what led to our sponsorship of the prestigious RAE Awards Dinner.
C M Parvathy joined Petrofac's training programme in 2012 with a Bachelor's degree in Chemical Engineering.  She was nominated for the Rising Stars after having performed surge analysis for a number of marine loading export and import systems during a crisis.
It was recognised that not only had she completed a complex piece of engineering under pressure but that she was also interacting directly with the client.
Having first gained a Masters degree in Mechanical Engineering in Lebanon, Marie Derraik joined Petrofac's graduate training programme in 2011.  Marie was nominated for her work as proxy lead on two proposals for which she was able to ensure that all technical deliverables were submitted on schedule and with high quality.
It was recognised that not only had she performed in a lead role with only limited experience but that she had also successfully managed input from remote engineering centres.
C M Parvathy and Marie were praised during the judging process for their dedication to their projects and for applying excellent technical judgement to develop real engineering solutions.