10 October 2018
Petrofac promotes opportunities in Sub-Saharan Africa
Petrofac supported the Energy Industries Council's Sub-Saharan showcase event, where UK businesses heard from oil companies and contractors about the opportunities to provide services and equipment in Senegal, Uganda and Kenya, by sponsoring a networking reception at the House of Commons on 9 October.
The Reception was hosted by the Prime Minister's Envoy to Uganda, Lord Popat and attended by a large number of operators, contractors and businesses looking to do business in Uganda. Lord Popat spoke about the strengthening relationship between the UK and Uganda and said his main focus was to help Uganda prosper and for UK-Uganda bilateral trade to significantly increase.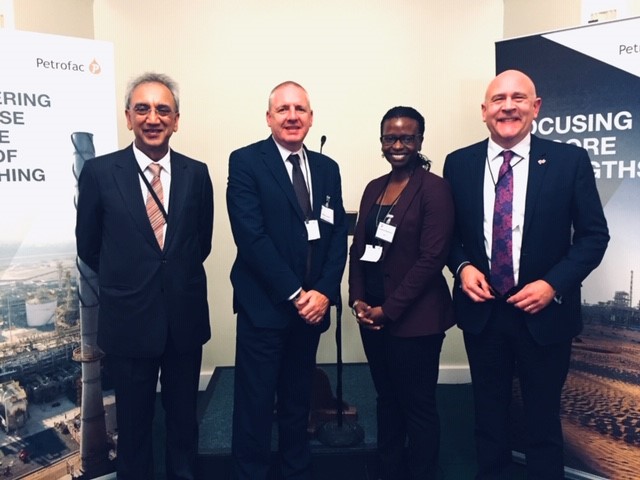 Left to right:  Lord Popat, the Prime Minister's Trade Envoy to Uganda, Simon Lyons, VP Business Development, Petrofac, Josephine Wapakabulo, CEO Uganda National Oil Company and Stuart Broadley, CEO EIC.
Lord Popat went on to say that over the past 18 months he had helped a number of British-led firms bid for opportunities and acknowledged that there were obstacles which needed to be overcome to doing business in Uganda, but the Government had taken tremendous strides to make it easier than ever to export there.