14 June 2018
Petrofac leaders discuss future strategies for the UK oil and gas industry
This week, two senior leaders at Petrofac shared their views on the future of the UK oil and gas sector at a series of industry events in Aberdeen.
John Pearson, Chief Corporate Development Officer and Group Managing Director, Western Hemisphere, was among a panel of industry experts who shared their thoughts on Vision 2035.
The Vision, developed by Oil & Gas UK in collaboration with the Oil and Gas Authority, outlines the UK offshore oil and gas industry's shared ambitions for the future of the sector.  It was created to show what the oil sector could offer and, if achieved, could generate £920 billion worth of revenue for the UK economy over the next 17 years.  Of that total, £420 billion would come from extending the productive life of the UKCS and the remaining £500 billion would come from doubling the UK oil and gas supply chain's export share of the global market.
Hosted by Oil & Gas UK, John spoke of his support for Vision 2035 at the briefing session and emphasised the need for industry and government to now work together to build and resource a practical plan for delivery. He said that industry could take heart from the Maximising Economy Recovery (MER UK) strategy and emphasised that it was a success because it was 'well resourced' and 'all stakeholders were aligned and had a common view of the problem'.
John welcomed the need for digital transformation within the industry and highlighted how innovation and technologies could improve collaboration, increase efficiencies and performance, and drive down costs to secure another generation for the basin.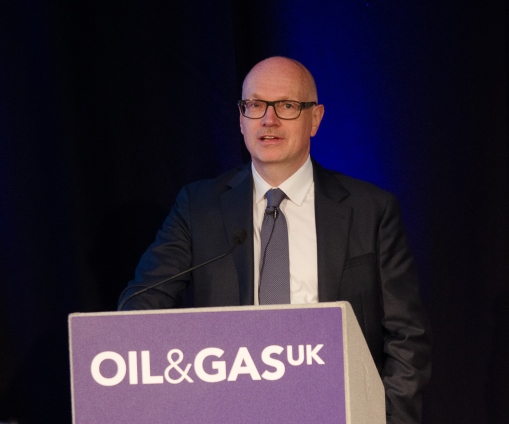 John later moderated a panel session at the Future Oil & Gas Conference which brought industry experts together to discuss the digital revolution and emerging processes that will shape the future of the industry. John's session on 'digitalisation of operations' encouraged a lively discussion around how companies can transition to a digital way of working without interrupting operations, protecting knowledge during the process of automating tasks, and managing potential cybersecurity issues.
Jonathan Carpenter, Group Head of Strategy, also moderated a session at the conference, focusing on how the industry can achieve 'better cheaper faster' through digital technology innovation. Audience members were invited to discuss topics such as the benefits of digitalising the supply chain to work smarter and at lower costs; supporting agile ways of working; and making more use of technologies such as augmented reality, 3D printing and drones.
Commenting on the event, Jonathan said: "Digital technologies will play a key part in responding to the challenges of the low oil price and shaping the future of the UK oil and gas industry. The conference provided an excellent opportunity to better understand where companies are focusing their digital efforts and how we can move forward together to secure the industry's long-term future."