31 May 2016
Petrofac hosts HAZOP study sessions for students of American University of Sharjah
A team of Petrofac specialists hosted study sessions for around 40 students from American University of Sharjah (AUS) this month.
The team, who are health, safety and environment specialists, bridged the gap between the theory and practice of hazard and operability (HAZOP) studies, with lectures and workshops delivered on the AUS campus. HAZOP studies are structured and systematic examinations of a planned or existing process or operation, in order to identify and evaluate problems that might represent risks to personnel or equipment, or prevent efficient operations.
In addition to giving the students a clear understanding of the technical aspects of HAZOP studies, the sessions also brought the whole subject to life. They simulated real-life situations and gave the students the opportunity to act out professional roles.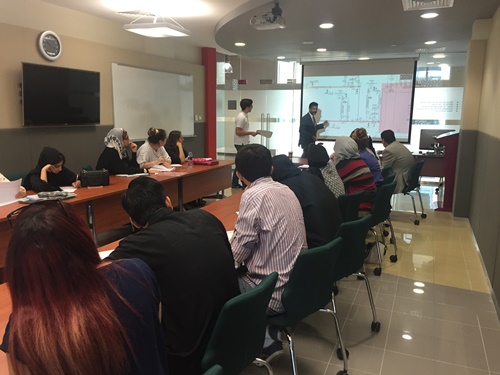 An active member of the university's Chemical Engineering Advisory Board, Raj Kochar, Head of Discipline, commented, "Remembering that these students are our future engineers, a classroom lecture is simply not enough to provide the level of understanding required for HAZOP concepts. They need to become immersed in the issues. Undertaking case studies in simulated working conditions really supports their learning experience."
Highlighting the long relationship that Petrofac has built up with the university, Raj added: "I am delighted that we continue to extend a supportive role to AUS by sharing our industry knowledge with the students, in order to equip them well to meet industrial process safety challenges."
Speaking on behalf of the AUS chemical engineering department and its students, Dr. Paul Nancarrow thanked Petrofac for an excellent HAZOP lecture and workshop, "The feedback from the students has been extremely positive. They have clearly benefited immensely from this initiative and I look forward to similar future engagements."