30 June 2016
Petrofac gives Aberdeen pupils industry insight
Pupils from Kincorth Academy in Aberdeen spent a week getting 'hands-on' experience of oil and gas activities with their long-term industry partner Petrofac.
The group of eight pupils received practical experience by taking part in a simulated event designed by Petrofac's in-house team of graduates and Science Technology Education and Maths (STEM) ambassadors, to demonstrate how each department and business area responds to a business challenge.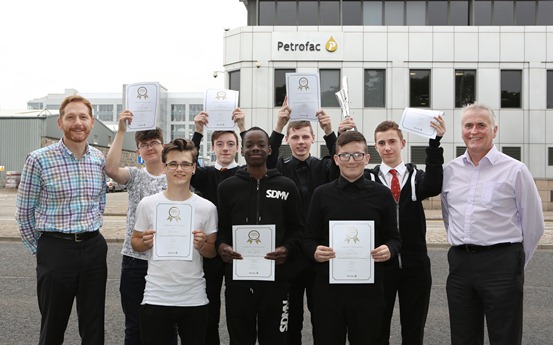 During the week the pupils:
attended an asset call with an Offshore Installation Manager,
observed an emergency response drill,
took part in work at height and confined space training at local company Aquaterra,
visited global Power and Automation company ABB,
and observed an offshore mobilisation take place at Bristow Helicopters.
The programme provides pupils with an insight to the oil and gas service industry, the career paths available and the important role STEM education can play.
Petrofac has enjoyed a 18 year education/industry partnership with Kincorth Academy and this is just one of many new activities the organisations have created to raise awareness of how STEM education translates into different career opportunities.
Walter Thain, Managing Director – West, Petrofac Engineering & Production Services, said:  "Our long-term partnership with Kincorth has continued to evolve over time to meet the changing needs of the school and its pupils.  Increasing awareness of what STEM is and the vital role it can play in developing careers in our industry is something we believe can really make a difference.
"This programme is a great example of an interactive and engaging way of achieving this; our teams have shown great innovation and commitment in coming up with the programme. We hope the pupils have enjoyed their insight to industry and experience as much as our staff enjoyed creating the programme."
Susanne Henderson, Deputy Head Teacher of Kincorth Academy, said: "This is an exciting new event in our activities programme with Petrofac, aimed at demonstrating the opportunities available to the next generation of workers. I hope we continue to build on our longstanding partnership in the coming session to provide pupils with further STEM opportunities and deliver the objectives of the National Improvement Framework."