29 September 2017
Petrofac gets to the heart of the matter with new health campaign
You probably don't think about it much. After all, what is out of sight, is quite often out of mind. But your heart is one of the most important organs in your body, pumping around one million barrels of blood during your lifetime.
Heart disease is currently the single biggest cause of death globally. Within Petrofac, we've suffered a number of heart-related incidents across our projects, assets and offices around the world. That's why we've launched a wellbeing campaign to show our employees how to better look after the health of their hearts.
The campaign is being rolled out across the company, including project locations, and raises awareness of the threats associated with heart disease, and the steps we can take to improve and maintain heart health.
Across 85 sites and assets in the UK, heart health risk assessments are being carried out by Medics and Occupational Health staff. Tests include calculating a person's body mass index, blood pressure, random blood sugar and cholesterol screening. These sessions have provided employees access to specialist medical checks and advice, with those who have had increased risks identified being referred to their doctor for additional checks, advice or treatment.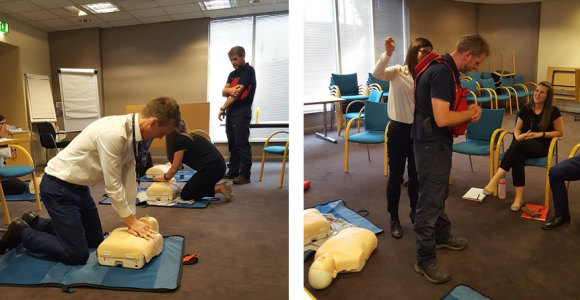 We've also teamed up with the British Heart Foundation to run several 'heartstart' sessions. Attendees have learned about the recovery position, CPR and how to recognise the signs of a heart attack, as well as how to help someone who is choking or bleeding heavily.
In the UAE, more than 300 colleagues recently participated in mini heart health check sessions with clinical nutritionists providing additional dietary guidance. Employees also attended an awareness seminar on chronic diseases which outlined the key steps and lifestyle changes that can be taken to prevent illness, as well as the considerations to be made if diagnosed or if test results indicate warning signs.