11 March 2016
Petrofac evolves its 'Duty Holder' model in support of new North Sea investment
Petrofac has been appointed as Duty Holder to support Anasuria Operating Company Limited (AOC), a UK joint venture formed between Hibiscus Petroleum Berhad (Hibiscus) and Ping Petroleum Limited (Ping). The arrangement is effective today in line with Ping and Hibiscus taking over as owner and AOC as license operator of the Anasuria cluster.
The initial five-year contract, which has additional options to extend, is worth in the region of US$250 million and secures 65 jobs, with most of the offshore personnel currently supporting the asset transferring to Petrofac.
The assets acquired by Ping and Hibiscus, named the Anasuria cluster, are located 175km east of Aberdeen and consist of a 100% interest in the Anasuria FPSO, Teal, Teal South, Guillemot A fields and a 38.65% interest in the Cook field. AOC was incorporated by Ping and Hibiscus to act as license operator.
Under this scope Petrofac will assume full responsibility on behalf of AOC for the FPSO operations as well as for monitoring and managing the pipelines and wells with the exception of the Cook well. Within this contract the responsibilities for Installation Operator (including Duty Holder), Pipeline Operator and Well Operator are being combined for the first time within Petrofac's Service Operator model.   This approach evolves the outsourced Duty Holder service which Petrofac pioneered in 1997 and will provide an integrated, aligned approach to the operation and development of the cluster.   
Walter Thain, Managing Director - West, Petrofac Engineering & Production Services said: "We are delighted to have completed a successful and safe transition of operations for Anasuria and to continue to support AOC and help them to make a difference as they take up their first UKCS Operatorship.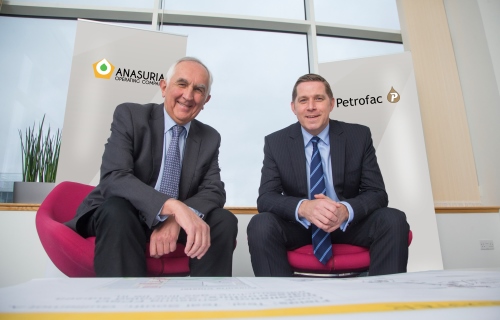 "AOC's acquisition of the Anasuria cluster is really an investment in the future of the North Sea and it is a positive development for our industry during these challenging times.  We aim to support AOC as they work to realise their vision for Anasuria to increase production and extend the life of field. We will apply our Duty Holder expertise in the safe delivery of an innovative operating model, designed to eliminate waste and maximise efficiency."
Mark Paton, Vice President of New Ventures and Production for Hibiscus Petroleum said:  "Today's milestone is the culmination of two years' of collective effort and we are proud of the work that has been undertaken by everyone concerned to attain a safe transfer of operations.  We are new entrants to the North Sea but we have experienced people and we aim to bring a fresh perspective along with our investment, to improve asset returns and extend the field life of Anasuria for the benefit of all stakeholders and employees." 
Phil Oldham, Chief Executive Officer of AOC said: "The combination of all our experienced teams will enable us to leverage our respective capabilities to overcome the challenges associated with mature assets while adhering to North Sea operating standards.  By working collaboratively, we will capture the additional potential from the cluster and extend the value from the existing infrastructure. We are fully committed to achieving safe and efficient operations."
Petrofac has been assisting AOC throughout its preparations for the Transfer of Operatorship as the joint venture worked towards completing the purchase of the cluster from Shell U.K. Limited, Shell EP Offshore Ventures Limited and Esso Exploration and Production UK Limited.