03 April 2017
Petrofac employees recognised at Total E&P UK SHE Awards
Two Petrofac employees were recently recognised at the Total E&P UK SHE (Safety, Health and Environment) Awards in Aberdeen. Now in their 12th year, the SHE Awards acknowledge the outstanding achievements of the nominees and their passion and commitment towards health, safety and the environment.
For the second year running, a Petrofac employee was awarded 'Best Newcomer'. Kyle Vass stood out amongst strong competition to take the title, which recognises his appointment as Lead Technician and Responsible Electrical Person for the Alwyn platform a short time after completing his apprenticeship. The judges were hugely impressed by Kyle's contribution and approach to maintaining the platform's power and safety critical systems.
Commenting on his accolade, Kyle said: "I'm very proud to have been recognised for my commitment to safety. I continue to strive to ensure safety is at the top of my agenda at work."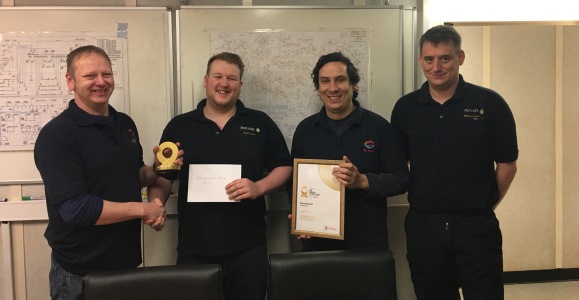 Kyle, (second from left) who was working offshore when the ceremony took place, received his award today from Don Kelly, OIM, Bruno De Oliveira, Maintenance & Integrity Superintendent, and Robert Laurenson, Fabric Maintenance & Services Team Leader.
Andy Harris, Production Technician on the Dunbar platform, was also recognised as a shortlisted nominee in the 'Best Environmental Initiative/Improvement' category. Andrew went above and beyond his role to monitor and ensure the integrity of a well, ensuring a potential environmental incident was avoided.
Dave Blackburn, Senior Vice President Operations and Engineering, EPS West said: "Our sincere congratulations go to both Kyle and Andy for receiving such well-deserved recognition. Their achievements demonstrate that our safe and driven to deliver values run deep within our organisation – we're very proud of them both."