12 March 2015
Petrofac developing 130 Jazan Saudis at Jazan/Baish refinery site
Petrofac, the international service provider to the oil and gas industry, has been keeping its sights firmly on local and sustainable capacity development in one of its key geographies, Saudi Arabia.
Saudi engineers and construction trainees are benefitting from Petrofac's safety training which is being conducted at the Baish Refinery site in Jazan.  The training is an integral part of Petrofac's Saudi Future Generation Programme that includes engineering, construction, supervisory, and safety skills training.   More than 160 hours of classroom training and 12 months of completed hands-on work have creating a solid foundation for the engineers and their fellow construction skills trainees to contribute to the substantial refinery project in Jazan and the development of the Kingdom's infrastructure.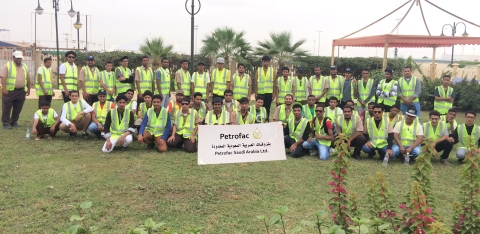 Our most recent course programme focused on some key aspects of personal safety:  basic first aid, site field injuries as well as what to do if someone has a heart attack.  Petrofac's staff medical doctor in Khobar, Dr. Waleed Elhamaky, taught 130 young Saudis how to administer Cardio Pulmonary Resuscitation (CPR) in accordance with the American Heart Association standards.
Just last month, 80 of our construction skills trainees received defensive driving training, culminating in them signing a pledge to commit to and follow the driving rules and regulations of the USA's National Safety Council and Saudi driving laws.