01 June 2016
Petrofac celebrates the tenth anniversary of its dedicated Emergency Response Service Centre
Lord Cullen of Whitekirk today highlighted the vital importance of the process around emergency response and preparedness across the oil and gas sector.
Speaking at a special ceremony in Aberdeen, the former judge who conducted the Public Inquiry into the Piper Alpha disaster, also unveiled a plaque to mark the tenth anniversary of Petrofac's dedicated Emergency Response Service Centre (ERSC) in Aberdeen.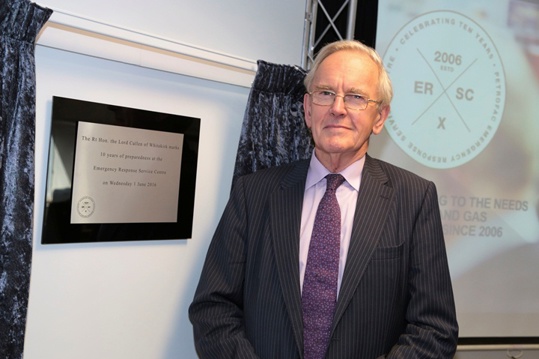 The first of its kind when it opened ten years ago,  the ERSC still provides 24/7 response facilities and onshore personnel in support of 39 clients including oil and gas operators, drilling and vessel companies and onshore terminal facilities in the event of an emergency.
Lord Cullen said: "This anniversary cements the trusted and dependable role that Petrofac holds within the industry."
The ERSC responds to multiple and varied calls every month in relation to muster drills, exercises and real incidents.  The team has responded to more than 2,500 live calls for assistance over the past decade.
Returning to the ERSC for the first time since he opened the centre in 2006, Lord Cullen praised Petrofac for its willingness to keep up with changes in industry best practice and continually learn and challenge themselves to evolve and improve.
"The ERSC has now been given a pivotal role in tasking the industry led SAR helicopter. This is an excellent example of the industry working together to guarantee two hour response times in the Central North Sea."
Since last year, the ERSC has provided the tasking coordination service to the dedicated Oil and Gas Industry Search and Rescue Helicopter User Group (made up of 21 North Sea operators), and responds to regular requests from UK Search and Rescue.
Chris Allen, Petrofac Group Director HSSEIA said that: "Working together with Babcock and the SARH User Committee, Petrofac's ERSC is contributing to a valuable service for the UK search and rescue infrastructure".
Reflecting on a decade's experience, Mr Allen praised the exceptional quality of specialist staff based in the ERSC pointing out their collective backgrounds in industry, the armed forces and emergency services were a critical factor in its success.
"The centre is widely acknowledged as one of the most professional support services in the UK and has become a trusted industry partner ensuring that safety always comes first."