08 August 2014
Mexico team welcomes graduate recruits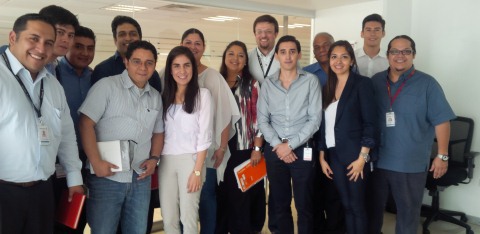 Following an extensive recruitment campaign and a cycle of assessments, the team in Mexico welcomed a group of graduate recruits.
These newly-hired employees are enrolled into IES Graduate Programme – a structured two-year development pathway, which involves asset swaps, placements and accelerated learning thanks to allocated buddies and mentors. This is the second intake into the Programme for the Mexico organisation.
Petrofac Mexico has approximately 260 employees, and operates four contractual areas: Magallanes, Santuario, Arenque and Pánuco (which is operated in partnership with Schlumberger). We're Mexico's second biggest oil producer, behind Petroléos Mexicanos (Pemex), the national oil company.
The recruitment team has visited Mexico's top universities and conducted an extensive recruitment campaign to attract the new talent. Rebeca Rodriguez, HR Manager, Mexico, commented: "We are delighted to welcome the new employees into the IES Graduate Programme. We hope this will be the beginning of an exciting Petrofac journey for them."
Hernan Mora, Country Manager, commented: "By hiring the right people, we are making sure that the future of Petrofac and optimum life of our assets is guaranteed. Succession planning is a key process within Petrofac."