Kuwait Clean Fuels Project wins double for Petrofac at the MEED Project Awards 2022

The Clean Fuels Project for Kuwait National Petroleum Company (KNPC) has won two National Awards - the 'Mega Project of the Year' and the 'Oil & Gas Project of the Year' - at the 12th annual Middle East Economic Digest (MEED) awards ceremony held in Dubai.
Petrofac formed and led a joint venture (JV) partnership with Samsung Engineering Co Ltd and CB&I Nederland BV (now part of McDermott International) in delivering the project.

Prashant Bokil, Vice President, and JV Project Director at Petrofac said:
"KNPC Clean Fuels was a key project for Petrofac and a great example of working safely and collaboratively towards operational excellence. It is pleasing that the hard work and efforts of everyone involved have been recognised. Thank you and well done to all the teams who have been part of this journey. We are thrilled to be part of the award-winning team."
Roberto Bertocco, Chief Commercial officer at Petrofac who attended the award function, added:
"We are very happy to receive these two awards as the teams worked hard to overcome a lot of challenges during the execution of the project to achieve successful completion. This project was delivered through excellent project execution strategies. Congratulations to all."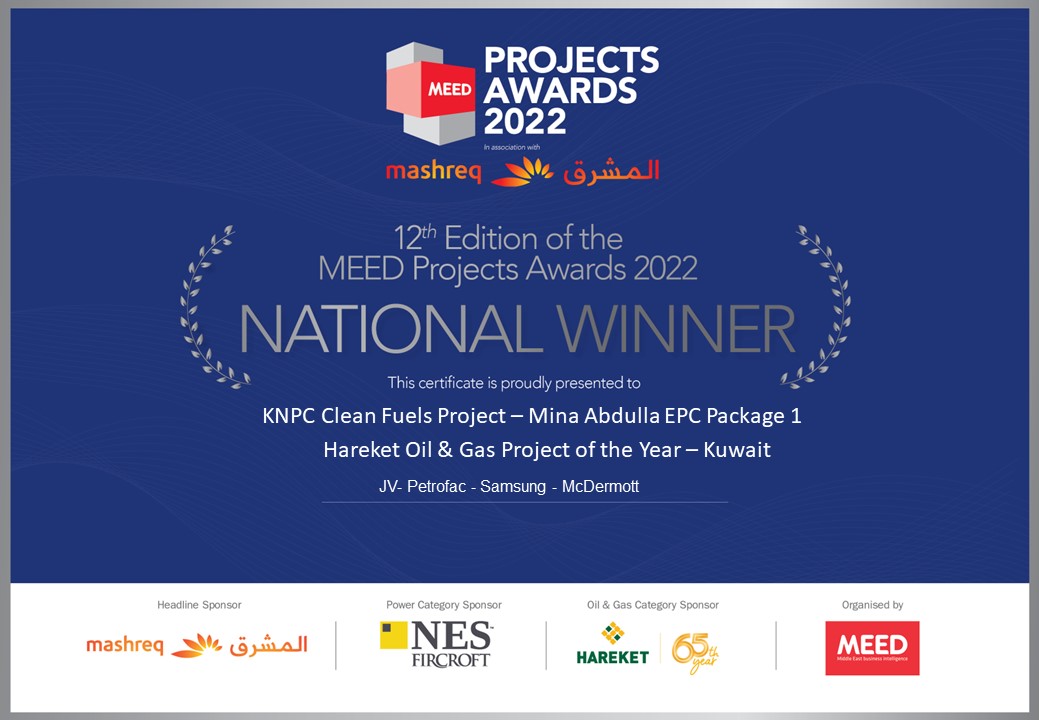 Mega downstream project to create a world-class facility
The Clean Fuels Project was a major investment to meet local and international fuel demand. It included integrating KNPC's Mina Abdullah and Mina Al-Ahmadi refineries to develop an integrated complex, increasing processing capacity to 800,000 barrels per day.
The Clean Fuels Project is now producing high-quality, ultra-low sulphur fuel products (Euro 5 standards - diesel, kerosene, aviation turbine / jet fuel, naphtha, and LPG) with environmental standards that reduce carbon emissions and pollution. As well enabling the production of these new, cleaner fuel products, this project will boost Kuwait's economy and position the country as a leader in the refining industry.