25 May 2016
Ground-breaking ceremony signals start of work on Bahrain gas dehydration facility
Petrofac has recently attended a formal 'ground-breaking' ceremony in Bahrain, which officially marks the beginning of the construction of a 500 MMSSCFD Central Gas Dehydration Facility.
Tatweer Petroleum awarded Petrofac the US$100m contract to design and build the new gas dehydration facility last year. This is the first of a series of MMSSCFD facilities being planned by Tatweer Petroleum in the next three to five years.
His Excellency Dr Abdul Hussain bin Ali Mirza, Minister of Energy and Chairman of Tatweer Petroleum, presided over the ceremony, which was attended by other dignitaries including His Excellency Shaikh Abdulla Bin Rashid Al Khalifa, the Southern Governor and Andrew Kershaw, Tatweer Petroleum's Chief Executive Officer.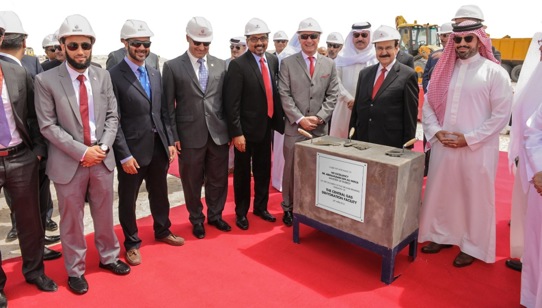 Mani Rajapathy, Deputy Managing Director and Project Manager Jamal Kousa represented Petrofac at the prestigious event.
Mani Rajapathy said: "Our work with Tatweer Petroleum builds on our growing portfolio in the Middle East and we look forward to collaborating with our client on this exciting project.  We're delighted to begin working on this new facility which will have a significant impact on the production of energy from Bahrain."