16 November 2015
Petrofac's EVE Awards 2015: introducing our winners…
Petrofac's EVE Awards recognise employees who have achieved incredible results by truly living our values. Over 300 colleagues from 17 countries applied for this year's EVE Awards, hoping to be in with a chance of winning one of our six values-led categories.
This year's awards ceremony, which was held in Dubai, saw a total of 31 individuals and teams shortlisted. The winners were chosen by a panel of expert judges and there was also a People's Choice Award – voted for by Petrofac people.
Group Chief Executive, Ayman Asfari, explained why the EVE Awards are so important to Petrofac: "This event demonstrates all our values and captures the spirit of the organisation. Congratulations to all the winners."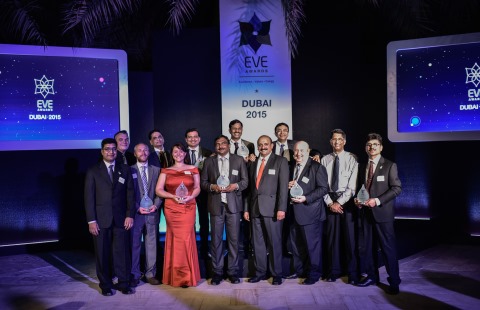 The winners of the EVE Awards 2015
Congratulations to:
The Disposal of Unexploded Weapons in Kuwait team, Kuwait, who won the Safe award.
When a routine project inspection uncovered unexploded ordnance, including grenades and rockets, the team's courage and determination were crucial to making the area safe. This project has set a new benchmark for the identification and disposal of unexploded ordnance, with nearby developments now taking extra precautions.
The Laggan Tormore Water Management Services team, UK, who won the Ethical award.
Working in torrential rain and 100mph winds, the Laggan-Tormore team provided a safe working environment for construction crews, while implementing a bespoke water treatment package and anticipating unscheduled weather events.
Mhairi Copland, Technical Clerk, said: "We are delighted to win and we accept this on behalf of the whole team at Laggan."
The Integration and Re-Use of Wellheads offshore Malaysia team, who won the Innovative award.
This team made major cost savings by avoiding the need for a conventional wellhead jacket, and completed the project before a monsoon, which gave our client several months of additional production.
Fred Halliday, Technical Integrity Manager, said on behalf of the team: "It's been an excellent evening. To win this will be such an honour for the team back in Malaysia."
Shaun Cruise – Well Examination, New Zealand, who won the Responsive award.
In 2012, New Zealand introduced well examination as a regulatory requirement. Our New Zealand office decided to become the local experts, and Shaun took the lead, meeting clients and government representatives, and then compiling guidelines that are now being used by the New Zealand government.
The Piperack Commodity Optimisation team, Mumbai, who won the Quality and Cost-conscious award.
The team optimised construction commodities, particularly piperacks, which made up over 60% of the required resources for their project. By combining skills across disciplines, the team was able to achieve their goal using a variety of innovative methods.
In total the team saved our client over US$21 million.
The North Kuwait New Distribution Network Project team, Kuwait, who won the Driven to Deliver award.
The team installed, tested and commissioned a huge quantity of electrical equipment in a short amount of time. Despite working in difficult conditions, they delivered the US$200 million project three months ahead of schedule due to good teamwork, organisation and transparent working practices.
The Optimisation of Flare Design team, UAE, who won the People's Choice award.
A project in Kuwait required different types of flares on separate derrick structures, with cost and space implications. The team convinced our client to combine both flares on a single derrick, successfully demonstrating this would not compromise safety, reliability or delivery. This approach improved project scheduling and reduced cost.
Well done to all the finalists and the winners!
Find out more about our values and the EVE Awards.