25 April 2016
British Ambassador visits Orpic's Sohar Refinery Improvement Project
UK Ambassador to Oman, His Excellency Jon Wilks visited Orpic's Sohar Refinery Improvement Project (SRIP) recently as part of his on-going efforts to support UK business and the economic strength of the Sultanate.
Petrofac, in a joint venture with Korean based Daelim Industrial Co Ltd was awarded the multi-billion engineering, procurement and construction contract for SRIP by Orpic in November 2013.  The Refinery was originally constructed and commissioned in 2006 and Orpic is investing in improvements at the site to enhance the current production capacity.  When complete, it is anticipated that the revamped facility will increase current output by more than 70%, creating many employment opportunities, both directly and as a result of the multiplier effect in the local economy.
The Ambassador was received by the senior management of Orpic.  Following a brief introduction on Orpic, the Ambassador and his delegation were given a SRIP project presentation and site tour by Petrofac's project management team following which he visited the existing Sohar Refinery facilities with Orpic management including their state-of-the-art integrated control room.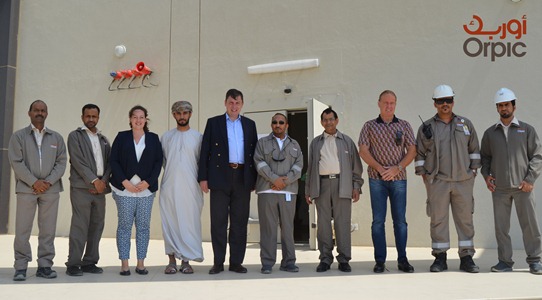 Taking time to speak to a number of people on site, His Excellency commented:  "The energy and motivation of everyone I have met today is remarkable.  When completed this project will be a great asset to Oman's economy and a great example of UK/Oman Partnership."
Dr. Hilal Al Hinai, GM – Corporate Support Services, Orpic, added, "We are very happy to welcome His Excellency the UK Ambassador to our Refinery.  Orpic's strategic growth project is in line with our plan to add value to the oil and gas molecules produced in Oman.  We are glad that the Ambassador is happy with our progress and supports our endeavours in making Orpic a leading performer."
Petrofac's Country Manager, Ray Richardson said:  "We are privileged that His Excellency was able to visit one of our sites, as delivering projects like this is the very foundation of what we do, and on what our 35 year history has been established.  Notwithstanding the excellent safety record this project has achieved.  Having recently achieved 20 million hours without a lost time incident is an impressive performance from the teams on site.  SRIP is a great example of both our local and international trade and employment in action."