Safety and health
Safety and health are of paramount importance at Petrofac. Our aim is for zero safety incidents. We see this as an entirely realistic and achievable goal and are proud to say that, much of the time, we do live up to it.
"At Petrofac, people come first and the wellbeing and safety of our employees, and everyone we work with is at the heart of our business."
Our people care. They are obligated and empowered to intervene and stop the work whenever they observe an unsafe situation. They understand that safety is everyone's responsibility.
Our HSE strategy is centred on 5 pillars:
Leadership
Employee engagement
Contractor management
Training
Compliance
These pillars define our future actions and initiatives and position us as the partner of choice for our customers.
LTI RATE
0.018
INCIDENT FREQ. RATE
0.091
OUR GOAL
0
Zero is the only acceptable number
In line with our internal safety campaign - Horizon Zero - there is no other number we would tolerate.
Horizon Zero encourages each employee, and those we work alongside, to:
Recognise hazards and reduce risk by identifying, understanding and dealing with them
Take personal ownership for safety by demonstrating personal commitment and competence throughout the organisation
Assure asset integrity by maintaining assets in a safe, reliable and efficient condition
We will achieve these objectives through leadership, communication, and co-operation.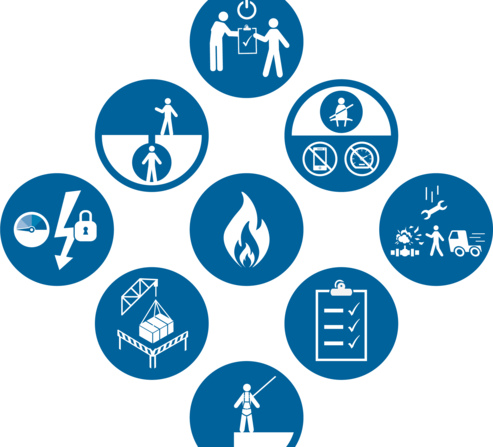 Safety
Life-Saving Rules
Everyone at Petrofac must follow nine Life-Saving Rules. These rules set out our minimum expectations to control the risk of serious injury from common activities.
Strengthening our safety culture
Every year we strive to enhance our programme of health, safety, and environment (HSE) measures. We also continue to refine the way we measure our performance.
Despite the challenges brought by Covid-19, a number of new health and safety initiatives were recently implemented, including:
HSE Deep Dives
Regular sessions with senior leaders to identify and address any potential barriers to safe and healthy working.
Life Saving Rules e-learning
A mandatory e-learning course for all Petrofac employees, incorporating videos in English, Hindi, Russian, and Arabic.
Hazard Hunt process
These include regular 'cold eye' reviews, whereby workers from one area perform a hazard hunt of another area, to identify hazards that others might miss after seeing them every day.
Virtual audits
More formal use of virtual tools to conduct HSE audits and Petrofac Assurance Index audits.
Behavioural-based training
A number of training programmes, including our HSE Bootcamp for supervisors and mental health awareness modules.
Extending our support of COVID-19 response initiatives
During 2021, we continued to support several COVID-19 response initiatives in the communities in which we operate
Employing digital for a safer work environment
In line with our wider digital transformation programmes, new technologies are playing an ever more prominent role in our HSE activities.
To help us understand our vulnerabilities, predict emerging issues, and inform our decision making, we are developing and implementing innovative digital platforms and tools to enhance our HSE efforts. We have developed a new data collection and reporting tool and introduced a Group-wide digital safety dashboard, proving real-time visibility of our safety performance.
To help improve driving safety, we are using in-vehicle monitoring system (IVMS) technology to keep track of driving behaviours, and identify and address any issues.
Security and crisis management
We work in some challenging environments with fast-changing security issues.
Our aim is to protect our employees, partners and assets in a responsible manner, and to prevent any security-related disruption to our operations. Our security team is closely integrated into the wider HSE community, and our Security Policy sets out the responsibilities of our leadership and each of our business units.
Cyber-security and data protection
In response to rapidly evolving data security risks, and to support Petrofac's wider digitalisation initiatives, we have a strong focus on cyber-security and data protection.
We stepped-up our programme and have developed a number of noteworthy initiatives:
Enhancing our threat detection capabilities and threat-hunting capabilities by leveraging machine learning-based detection systems
Improving our threat intelligence capabilities, with an emphasis on region- and industry-specific threats
Extending our cyber-security awareness programmes to cover vendors and third parties to create a culture of cyber risk awareness across our supply chain
Continuing our phishing simulation tests and awareness programme to ensure our employees remain aware of the latest phishing techniques and to create a strong and dynamic cyber- security culture
Continuing the assessment of cyber-security risks with regular vulnerability assessments, penetration tests and Red Team exercises
Cyber-security remains a key priority in all our digitalisation initiatives, and we ensure that appropriate security protection is embedded from the initial ideation and conceptual phases.