Safety
Safety is of paramount importance at Petrofac. Our aim is for zero safety incidents, as reflected in the name of our Horizon Zero global safety campaign. We see this as an entirely realistic and achievable goal and are proud to say that, much of the time, we do live up to it.
"My ambition is for Petrofac to be the world's safest workplace. For us to remain better attuned to the wellbeing of our colleagues, and for everyone on our sites to feel valued and cared for."
LTI RATE
0.013
INCIDENT FREQ. RATE
0.065
OUR GOAL
0
Horizon Zero
Horizon Zero is our internal safety campaign, designed to help our teams eliminate the potential for incidents to occur on site or in the office.
Horizon Zero encourages each employee, and those we work alongside, to:
Recognise hazards and reduce risk by identifying, understanding and dealing with them
Take personal ownership for safety by demonstrating personal commitment and competence throughout the organisation
Assure asset integrity by maintaining assets in a safe, reliable and efficient condition
We will achieve these objectives through leadership, communication, and co-operation.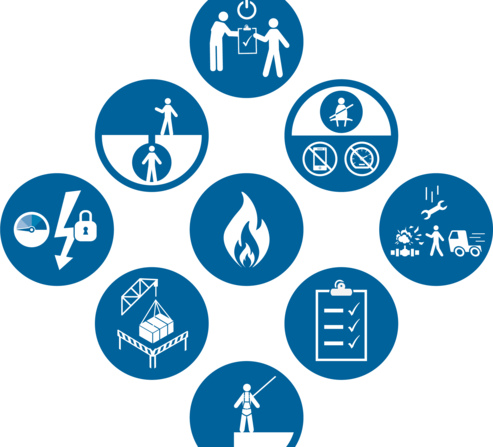 Safety
Life-Saving Rules
Everyone at Petrofac must follow nine Life-Saving Rules. These rules set out our minimum expectations to control the risk of serious injury from common activities.
Strengthening our safety culture
Every year we strive to enhance our programme of quality, health, safety, and environment (QHSE) measures. We also continue to refine the way we measure our performance.
Despite the challenges brought by Covid-19, a number of new health and safety initiatives were recently implemented, including:
HSSEIA Deep Dives
Our global leadership teams met on eight occasions to conduct HSSEIA Deep Dive sessions, with a view to identifying and addressing potential barriers to safe and healthy working that may have previously been overlooked. In total, more than 240 people were involved in the sessions.
Life Saving Rules e-learning
We launched a mandatory e-learning course for all Petrofac employees, incorporating videos in English, Hindi, Russian and Arabic, which will also be shared with partners and subcontractors.
Hazard Hunt process
We introduced a new Hazard Hunt process on our project sites, such as regular 'cold eye' reviews, whereby workers from one area perform a hazard hunt of another area, to identify hazards that others might miss after seeing them every day.
Excavation hazard awareness programme
A set of flip cards was developed to raise awareness of the risks relating to excavation activities.
Behavioural-based training
To assist onsite personnel, we revived a number of training programmes, including the HSSE Bootcamp for supervisors in our E&C business, and mental health awareness across the Group.
Protecting our people from Covid-19
A Group-wide COVID-19 response and recovery programme was initiated to provide direction and support to all offices and project sites globally
Employing digital for a safer work environment
In line with our wider digital transformation programmes, new technologies are playing an ever more prominent role in our HSSEIA activities.
We are developing innovative digital platforms and tools such as our new HSSEIA data collection and reporting tool, and the new digital enterprise risk management tool. Faced with travel restrictions, we have also moved our annual site audits to digital channels, which also facilitate our Group Crisis Team and Business Support Teams meetings.
Finally, to help improve driving safety, we are using in-vehicle monitoring system (IVMS) technology to keep track of driving behaviours, and identify and address any issues.